Due diligence on standard gauge railway project was not done, Alfred Keter tells Parliamentary team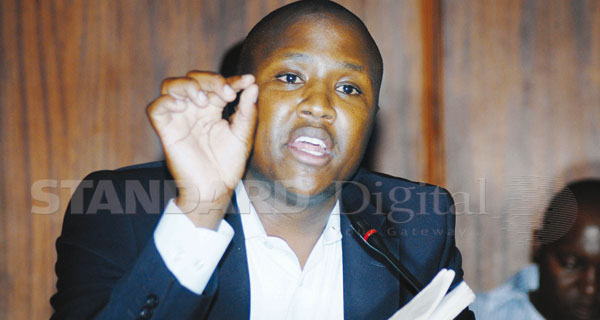 Nandi Hills MP Alfred Keter.
By Paul Wafula
Nairobi, Kenya: China Road and Bridge Corporation (CRBC), the Chinese company awarded the contract to build the controversial standard gauge railway, only conducted a feasibility study for 485km of the railway will end up constructing 609km from Mombasa to Nairobi, a parliamentary team has heard.
Nandi Hills Member of Parliament Alfred Keter, who asked for one more week to officially table his evidence, maintained that Kenyans will pay more after the contract was single sourced.
CRBC got the contract to build the first phase of the railway at Sh220 billion, but it was later increased to Sh327 billion to allow it source for locomotives and wagons as well.
Mr Keter, who appeared before the parliamentary Public Investment Committee Wednesday, opened fresh attacks that the President was misled into launching the project before due diligence was done.
Keter said he will not appear before the Transport committee which is conducting a parallel inquiry on the same project on grounds that the chairman of the committee had already shown in public that he was not impartial.
He told the committee that Ethiopia was constructing a double track railway line at $3.9 million per kilometre yet Kenya was doing a single track for almost the same amount of money.
Contract inflated
Keter has been one of the most vocal MPs against the standard gauge railway, alleging that the contract had been inflated to 1.3 trillion, a figure that the Transport ministry has disputed.
Parliament will officially start hearings on the project on Monday next week.
"Mr Keter will formally appear as a witness next week and he will be expected to table the evidence in a written format," Mr Adan Keynan, the PIC chairman said.
Some of those lined up to testify next week include the managing director of the Public Procurement Oversight Authority (PPOA), the Attorney General, top management of the Kenya Railways Corporation (KRC, cabinet secretaries for Transport and Infrastructure and his Treasury counterpart.
The committee will also consider whether the actual cost of operating the train will be cost-effective after a dossier before it on the controversial standard gauge railway claimed the new operators will need to charge six times the current road or rail rates or be given at least Sh18 billion in taxpayer subsidies every year to be profitable.