Josephine Ekiru's mission to preach peace in Northern Kenya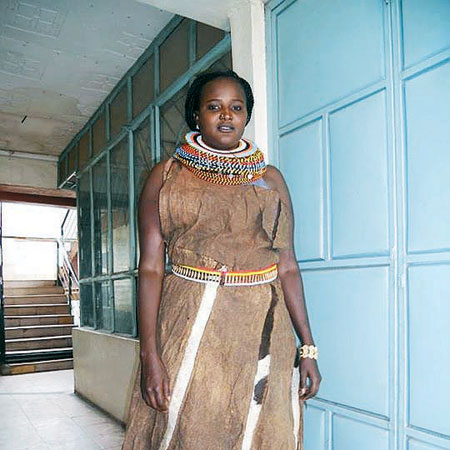 Singer Josephine Ekiru. [PHOTO: JAMES WANZALA/STANDARD]
By JAMES WANZALA
NAIROBI, KENYA: Josephine Ekiru, 28, is on a mission to preach peace and environmental conservation through singing.
She has a dream of ensuring that communities, especially pastoralists from northern Kenya, live together in peace and harmony and wildlife protected at the same time.
"I started singing while a young girl in Sunday school, and I was later inspired to sing in 2002 due to frequent clashes among the pastoralist communities of Turkana, Borana, Somalia among others over cattle rustling," says Josephine, a single mother of two, boy and girl aged five and six years respectively.
Praise songs
While in her Catholic Church in Isiolo, she could sing in the praise and worship team but later after getting saved, she joined Living Faith Ministry.The worst was in 2002 while she was 19 years when productive youths from her Turkana community were killed.
The community used to receive bodies of murdered youths, which really affected Josephine emotionally.
"I was really affected to see those bodies being brought home and I was wondering how this bloodshed could be stopped," remarks Josephine who comes from Ngaremara village in Isiolo County. Among the Turkana, a young woman is not so much recognised unlike a young man. So to succeed, she would accompany former councilor a Mr Ekuwam to collect bodies of the murdered youths.
They would also attend peace forums together where she was given chance to talk to the locals.
She recalls it was the 2007/08 post-election violence that made her heart bleed and also inspired her to preach peace to the entire nation through music. She first composed her first song Tudumishe Amani that is also the name of the first album, which has nine songs, Yesu Uhai Wangu, Tuhifadhi Wanyama Wetu, Conservation, Maua Ilio Nzuri, Nikupe Nini, Kitovu, Akuja Yakobo, Dunia, and Baba Mikononi.
Tudumishe Amani is the song that gave her fame and it was even used by NTV's Malimwengu show. She is currently working on her second album.
During the recent Kalacha Food and Music Festival in North Horr, Marsabit County, she stole the show as she electrified guests leaving them wanting more, with her songs touching on peace, environmental conservation and wildlife, among others.
Her songs Kitovu and Maua Ilio Nzuri were composed to praise the nation of Kenya.
"I wish our nation to be America in Africa that's why I sing in praise of the nation in this two songs. I would like Kenya to be like a good flower that is nourished," Josephine told The Standard on Saturday. She also encourages Kenyans to live in peace since we are the same descendants of Adam and that we should not fight each other but live in peace.
On environment, she uses kitovu (Umbilical Cord) in her Kitovu song as an image and says that Kenya is like kitovu, which feeds us and therefore should not be dirtied with corruption, bloodshed and pollution because this is will kill citizens just like an unborn child depend on the umbilical cord for survival. Music has not helped her financially per see but also gave her fame. ''Sometimes I do not wait to be invited to go and perform somewhere, I invite myself because I am burning to deliver the message of peace, environment and conservation,'' adds Josephine.
She is planning to compose a song in all the pastoralist community languages which she is optimistic will help her take her message of peace deeper. Josephine terms marketing of her music as among her challenges since getting her songs to play on TV or radio is hard.
Market music
"I come from far Isiolo County and reaching Nairobi to market my music where all the radio and TV stations are located is a tall order for me," she asserts. She cites financial constraints to produce her music as also another challenge. For instance, she recalls taking three years unable to produce her three songs until in 2008.
"I am jobless but I do volunteer works with a community conservancy organisation. If I get adequate funding, I will travel all over Kenya to preach peace. I really feel pain when I see communities fight," says Josephine, a third born in a family of seven.
Her music is available at Melmax Studios in Nairobi near Odeon Cinema and at Zack Electronics. Josephine has a role model, Apostle Nachamani from Lodwar who inspires and encourages her through his singing.
She says that she gets inspiration to write songs after attending events and if something happens. Josephine never puts her notebook down since she writes down every idea that comes into her mind, anywhere. Her efforts towards preaching peace have seen her convert about 19 poachers who are now reformed and accompany her to peace forums.