Ruto-Raila feuds do not help Kenyans, it is time they ended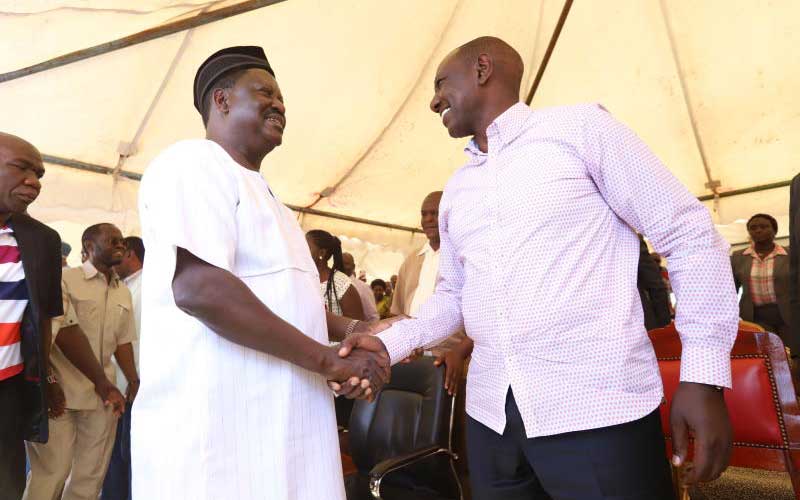 Deputy President William Ruto and ODM leader Raila Odinga have perfected the art of going for each other's jugular.
This is an animosity that dates back to the Grand Coalition government days when the former accused the latter of orchestrating the eviction of members of his Kalenjin community from Mau Forest.
While Ruto refers to Raila as the lord of poverty, Raila has dismissed him as the high priest of corruption, creating a wedge between their supporters and putting the nation into a constant mood of political tension.
This unfortunate situation is happening at a time resources should be channelled towards achieving the much-touted Big Four agenda, which they both claim to support.
It is as if another election is just around the corner; less than two years after another divisive one in which the two played antagonistic roles. Every move that Raila makes is viewed with scepticism from the Ruto camp, and every step that Ruto makes is treated as an attention-seeking 2022 political stunt by the former Premier's lieutenants.
All these point to poor leadership qualities. Unfortunately, the duo is fixated with self-aggrandizement rather than what is good for the nation.
No one needs to be taken back to kindergarten to learn that church harambees, spearheaded by Ruto, and the referendum push by Raila do not add any food on the table of millions of Kenyans who have been condemned to a life of destitution.
This is as a result of endemic corruption and inequitable distribution of national resources. Nations are built through sound policies, openness, transparency and accountability.
They are not built through freebies being doled out to earn political mileage or incessant plebiscites to create positions for the big men and their political henchmen.
The Asian giants many Kenyans are wont to talk about and the developed nations we borrow loans from never prospered on account of church donations or by incessant changes to the constitution.
They did so through systems and structures premised on innovation, entrepreneurship, equality and slaying of the corruption dragon.
The Ruto-Raila feud should be a case study on how not to develop Kenya. The two leaders have proved to be of no help to the country.
It is hypocritical that they value this country, yet all they do is bicker all the time.
Sip of Moroccan hospitality
Hospitality, spearmint tea and love add spice to life on a tour of the ancient Moroccan town of Tangier by the Mediterranean Sea