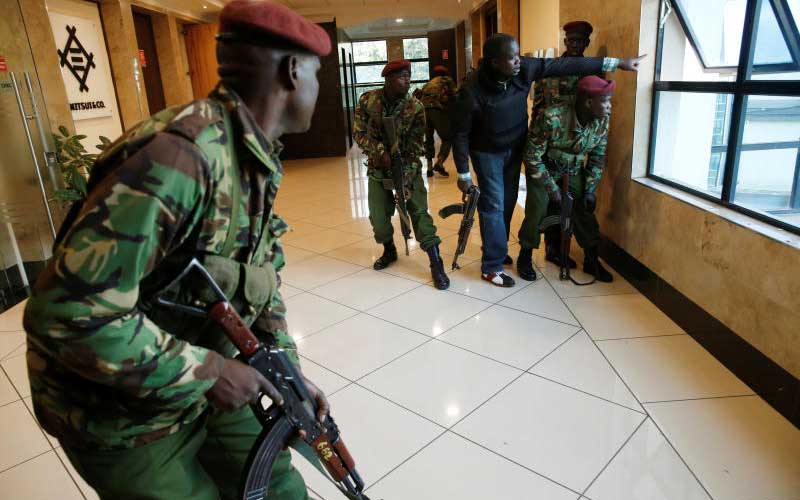 When I first heard a loud bang from my office on fifth floor of a building next to 14 Riverside, I thought of what many Nairobians would in similar circumstances – 'another tyre burst' or 'a lorry crashing into another'.
Then, I heard the persistent rat-a-tat of gunfire. My fears had been confirmed – something bad, really bad had happened (again!) in Nairobi. The senseless terrorists had struck again.
14 Riverside was such a serene estate. I had said to many people that it was probably the best office park in Nairobi – it had character. I loved going to 14 Riverside for meetings, coffee, lunch. Now, that serenity had been shattered.
After a chaotic exit from the office, I got home to follow the events on TV, and explain to my nine and 11-year-old children what was going on. Sadly, they have to know the truth of the evil world we live in. Then, my emotions moved from sympathy for those who suffered, helplessness on my part, and anger – not only towards the animals who directly committed the heinous act, but also (and more so) towards those who planned, orchestrated and financed the attack.
I keep questioning why our beautiful Kenya seems to suffer more than a fair share of such attacks. I have a simple answer – the cancer of our society – corruption. Days after the attack, my anger has turned toward those who are and were corrupt.
I have lived through all of our post-independence governments and, sadly, through most of our corruption scandals – the All Africa Games, Goldenberg, NSSF, NYS, Anglo Leasing, land grabs, passport scams, security scams, procurement scams, police harassment, food importation scams, Chicken-gate…the list is endless.
So, how did the terrorists get their arms from Somalia to Nairobi? I suspect through some corrupt official(s) on the border who turned a blind eye for a few shillings. Why did they turn a blind eye?
Possibly, because they can, due to lack of proper border control systems and equipment! Perhaps the terrorists got fake identity cards or passports to cross the border. 'Anglo-fleecers' were to supply us with a passport system and CID forensic equipment system and other great things decades ago.
If they had done what they were paid to do, then perhaps by now, our intelligence, immigration and passport issuance systems would be so advanced that it would be impossible for criminals to get through our borders! Our emergency services did a great job responding to the attacks, and the security services were fantastic and saved hundreds of lives. But could they have done better if they were better equipped? What if resources to buy better equipment were not stolen?
Paras Shah is a lawyer. ([email protected]; Twitter: @parasshahkenya)