Justice Mwilu, Philip Murgor in intellectual duel during CJ interview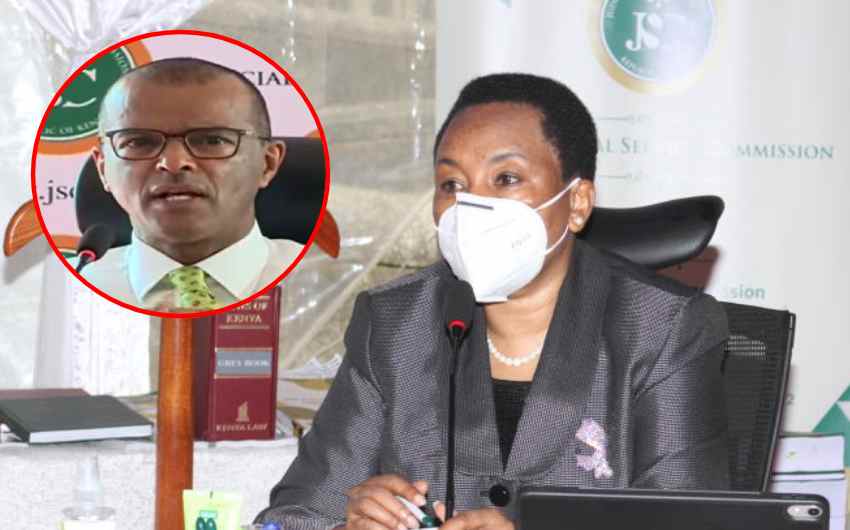 The power of argument was at full play when lawyer Philip Murgor appeared before the Judicial Service Commission to be interviewed for the position of Chief Justice.
Acting Chief Justice Philomena Mwilu and Senior Counsel Philip Murgor, who once served as public prosecutor, differed over his position that there was a vacuum in the office of the Chief Justice since the departure of former CJ David Maraga.
Responding to a question by Mwilu on the challenges of presiding Judges in the Judiciary, Murgor argued that the office was vacant as there was no substantive office holder.
"In so far as problems are concerned," said Murgor, "the problems that I have described for the DPP are not different, at some point, for presiding judges. But, today's problems – to me- appear different, they indicate a situation where there is no chief justice."
He went on: "I have discerned a memorandum that was submitted by the KPJA that to some extent, there was a bit of disconnect between the administration of the immediate past Chief Justice and the presiding judges in some of the work they were doing. My solution; if I were appointed as the Chief Justice, is to be a CJ who has a walk-around leadership."
"Senior Counsel did you say the situation is different because we do not have a substantive Chief Justice?" posed Mwilu
"I said as long as it is not the Chief Justice, the situation may not change. I am not saying the acting Chief Justice is not doing her best. I am saying it is not the same as having a Chief Justice, because the Chief Justice is ultimately responsible; anyone in acting capacity is really acting on temporary time. You can't start anything that you can't finish," Murgor responded.
Pressing further, Mwilu questioned Murgor if it was his accepted notion that there was a vacuum in the office.
"Is it Senior Counsel's considered opinion that for the last four to five months there has been a vacuum in the Judiciary?"
"It is not an opinion," countered Murgor.
"It is a fact. There is no substantive Chief Justice in office. I have not done a survey to ascertain what it is would be described as a vacuum. I go with what is current and available to me and have read in the memorandum of the KPJA. There are not concerned or dealing with your performance as acting chief justice. They are talking about the past administration and what they hope for in a future administration."
Explaining that his position was not meant as disrespect to Mwilu, Murgor said there are limitations to her capacity.
"It is meant in no disrespect to you in your performance. I am talking to about what I know to be the outlook of any public servant when dealing with an officer who is holding office in an acting capacity," said Mugo.
To which Mwilu said: "I want to suggest that your view, which you are 100 per cent entitled to is yours, mine is completely different, but I think the law abhors a vacuum."