Roba shuffles Mandera Cabinet, abolishes chief officer in Office of the Governor post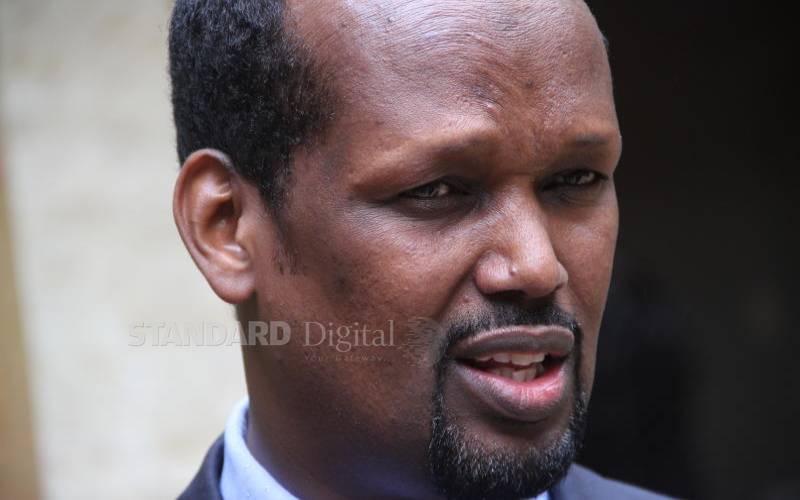 Mandera Governor Ali Roba (pictured) has abolished the chief officer post in the Office of the Governor as he made changes and reshuffled his cabinet.
"In accordance with Article 179 of the Constitution on and Section 46 of the County Government Act, I hereby abolish the position of the County Chief Officer in the Office of the Governor," Roba said.
Twenty other chief officers are to remain in their dockets including Abukar Abdi Sheikh (Medical Services), Rahma Abdullahi Mahmud (Public Health), Abdikadir Adan Alio (Culture, Tourism and Sports) Vainusa Yussuf Aburo (ICT and E-Government) and Alinoor Mohamed Ali (Accounting and Financial Services).
Roba also merged some departments, saying the changes were meant to enhance efficiency, transparency and accountability.
He has also focused his eyes on the remaining about 480 days of his term in office as he seeks to deliver his legacy projects.
In the changes that take effect immediately, Public Service, Conflict Management, Cohesion, Integration and Devolved Units executive Ahmed Sheikh has been moved to the Roads, Public Works and Transport docket.
Agriculture, Livestock and Irrigation executive Rahma Abdow Abdirahman will now head the Trade, Investment, Industrialisation and Co-operative Development docket.
Nadifa Ahmed who ran the Gender, Social Services and Youth Affairs ministry has been moved to Agriculture, Irrigation, Livestock and Fisheries.
Suleka Hulbale who oversaw the Roads, Public Works and Transport for the border county will now take charge of Finance and Economic Planning.
Issadin Adawa who took charge of Education, Sports and Culture only last week has been assigned Gender, Social Services and Youth Affairs department.
In a statement, Roba said the changes are "Cognisant of the need to review and re-constitute/reshuffle the County Executive structures to embed operational enhancements and functional changes that shall make ministries/departments better able to deliver on their mandates."
He said Sheikh will also double as the acting Public, Service, Conflict Management, Cohesion, Integration and Devolved units boss until a substantive executive is appointed.
Dr Mohamud Adan Mohamed was retained as Health executive, Adan Hussein Hassan (Lands, Housing and Physical Planning), and Mohamed Ali Omar (Water, Energy, Environment and Natural Resources).
The Jubilee Party governor also reshuffled his chief officers Maryam Dahir Dubow moving from Irrigation to Livestock and Fisheries.
Also moving is Mohamed Harun Musdaf from Conflict Management, Cohesion and Integration to Youth Affairs, Adawa Haji Adan from Public Works to Agriculture and Irrigation and Zeitun Abdishakur from Youth Affairs to Governance, Civic Education and Public Participation.
Shamsi Mohamud Sheikh was moved from Livestock and Fisheries to Public Works.
Roba said, "To enhance the service delivery within the Agriculture Sector, the County Department for Irrigation is merged with County Department of Agriculture to establish the department of Agriculture and Irrigation."
He ordered the officers and departments affected by the changes to ensure "a smooth immediate handing/taking over with minimal interruption to the county operation."
The changes follow the death of former Mandera Finance executive Ibrahim Barrow Hassan of Covid-19 early last month.