Clergy condemns burning of churches and calls for arrest of perpetrators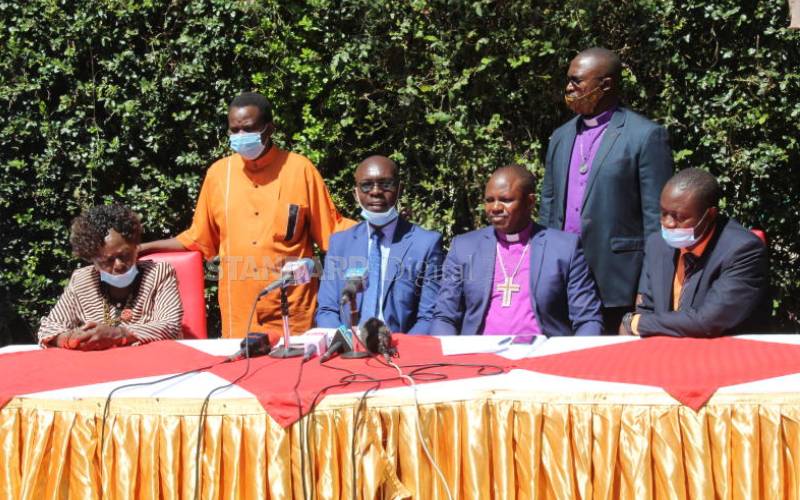 The Church and Clergy Association of Kenya (CCAK), an umbrella body for churches and religious leaders, has condemned the burning of five churches in Otamba village in Nyaribari Chache Kisii County recently.
The first incident was reported on January 20 when St. Monica Church was burnt in the wee hours of the morning.
Barely a day later, three others -- Worldwide Church, Seventh Day Adventist and Legio Maria churches were burnt. The Kenya Assemblies of God (KAG) church was the latest casualty last Sunday, January 24.
Speaking while addressing the press at Biblica in Nairobi on Thursday, the association called upon the government to initiate investigations.
"We demand the investigating authorities to get to the bottom of the matter and expose the agents of such heinous acts. What is the motive behind this and who are these mercenaries acting for?
"This is a dangerous path that must be blocked immediately. Kenyans have lived knowing that places of worship are holy and safe," said Bishop Hudson Ndeda, national chairman of CCAK.
The association also appealed to the national and county governments to assist in restoring the places of worship.
On the current political campaigns, the association said it is saddened by how the politicians have defied President Uhuru Kenyatta's directive to ban political roadside gatherings, calling it open defiance to an order, yet the church has obeyed the ban on open air crusades and night vigils to stop the spread of Covid-19.
"This could erode the gains made in the fight against Covid-19.The political noise is loud today that Kenyans hardly make sense of what the politicians are saying.
"How come the government is unable to obey its own directives and demand that ordinary Kenyans comply. We demand civility in our politics, tolerance to divergent opinions and fidelity to the rule of law," said Bishop Geoffrey Gichuhi, general secretary of the association.
On the Building Bridges Initiative (BBI), the association asked Members of County Assemblies to debate the document with sobriety.
"You must ask the hard questions. Listen to Wanjiku keenly. The bait in the document on giving you more devolved funds should not compromise your integrity on the way you vote.
It also called upon Education Cabinet Secretary Prof. George Magoha to walk the talk by ensuring no student is chased away from school due to fees.