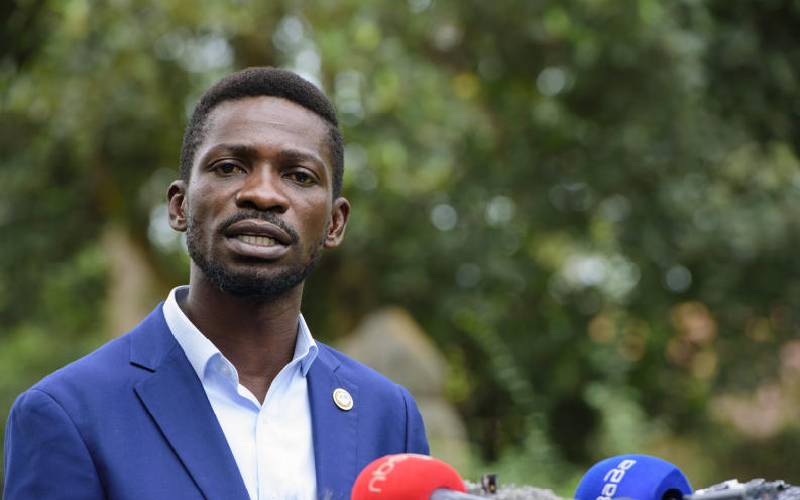 Outside Harold's church, Harold Assemblies of Holy Associates (Haha), is a paper tucked inside the church register where people who want to witness Joe Biden's inauguration are registering.
Beside it is another less populated list of those willing to resolve matters after Uganda's elections.
In the latter case, Uncle Harold hasn't decided who he supports between President Yoweri Museveni and his opponent in the polls Robert Kyagulanyi, better known by his stage name Bobi Wine.
For a long time, it was clear that he was rooting for Museveni, who he says was his comrade long ago.
"Have you heard of the guerilla war?" he often asks, reminding me that he had the privilege of carrying Dedan Kimathi's rungu around.
Read More
This despite the fact that Harold was born after the white man had given up fighting Africans who believed to be bullet-proof in the MajiMaji rebellion. But legend has it that in a play staged in KiaMaina, Gitegi's grandest theatre, Harold acted Dedan Kimathi's assistant.
Harold now supports Wine, and for obvious reasons. Also, the only reason Harold supported Tanzanian President in the country's last elections was because of his name, Pombe.
Elections in Africa, as you know, are more or less like elections in the United States, 2020. It is wise to support the incumbent. It is easy to remain in a seat you already occupy than unseating someone. Grade one logic, aye?
Some leaders have been known to win election with more votes than the total number of voters.
Harold has been following happenings in the United States with a lot of interest and is proud of an American who quite like him.
Remember that Harold was certified as Gitegi's foremost gossip telling an estimated three lies every minute, as estimated by yours truly. He was thus blocked from making appearances at the shopping centre, but his rowdy supporters stormed the elders' drinking hole, where some of these punitive bills are passed into law, and the ban was lifted.
It is not a surprise, therefore, that the invasion of the US Capitol by Trump's diehards excited Harold.
With the inauguration set for 20th this month, I have come to learn that Harold is not after people watching the swearing in of Biden. Rather, what he expects to be the spectacle is the outgoing president giving the ceremony a wide berth.
Controversies excite Harold.
He is learning fast, which is unlike Harold. He has promised that if he loses the Nairobi gubernatorial elections, he will not attend the inauguration ceremony, and then local tabloids will make him a celebrity overnight.
Harold will be streaming the inauguration live on my phone, and those who are registered will meet at his church to watch 78-year-old Biden get sworn in.
They will each pay Sh50, which he says is the entry fee into the ceremony. The money will be wired straight into Trump's account to help him cope during these trying times, he claims.
I asked Harold what lessons he has learnt from Biden's rise to power. Biden is older than all but one of the retired American presidents who are alive.
Jimmy Carter is 96, Bill Clinton, George Bush and Donald Trump are all 74, with Obama the youngest at 59.
For me, the main lesson was that one could rise to be anything they wanted to be in spite of their age. Biden first declared his candidacy for the 1988 Democratic presidential nomination on June 9, 1987. He got the seat 32 years later.
But to Harold, the lesson is that a younger campaigner, who can weave words like a master, can open any doors. And take you to a promised land.
"Biden hired Obama. Which is why I am hiring you for this Nairobi thing."
I can't weave words. I cannot weave anything to save my life. But Harold wants me in this so he can have someone to blame once he loses. Which he will, the oracles have seen it.
But before Nairobi, Harold will be engrossed in, and takes Gitegi into the thick of action of, Uganda and The US elections as an observer and peace broker, authorised by NOBODY, 2021 (Neutrals' Organisation to Boost Order and Democracy, 2021).