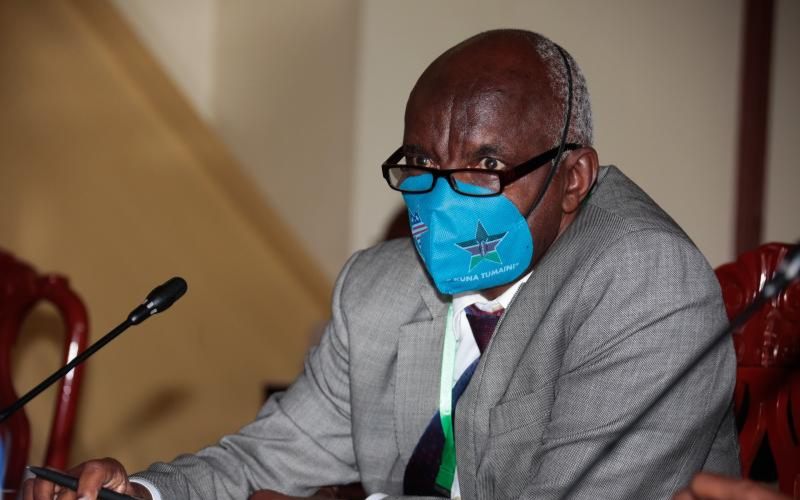 Makueni Governor Prof Kivutha Kibwana on Tuesday claimed drones have been hovering over his residence in recent days because of his stance on the BBI report.
Speaking during an interview on Spice FM, Kibwana described the BBI as 'poison', saying Kenyans should be wary of it.
"Even when you called me, the phone call was going to somebody else, a lady was answering the phone which I had in my hands.
"There are drones hovering over my place…we wanted to shoot one of them but we warned that if we shoot it the owner would come for us," he said.
Adding: "Kenyans must know this is poison and they do not want to drink poison because they don't want to die."
Read More
"We were told if we shoot it mwenyewe atatukujia."

Makueni Governor .@governorkibwana claims his phone has been hacked, and there are drones hovering over his residence because of his stance on the #BBIReport #TheSituationRoom .@ktnhome_ .@EricLatiff .@nduokoh .@ctmuga pic.twitter.com/zIhGIHc3Za — SpiceFM (@SpiceFMKE) December 1, 2020
The governor further opined that some leaders are pushing for the BBI to rise to power in 2022.
"I think there are people who want power in 2022 and they have decided that the best way to get power is to do this 'Constitution' so that it can get them to that destination.
"This is not how we change a Constitution…you are looking at 78 provisions in a Constitution which has 264 provisions. If you are looking to change 13 chapters out of 18, you are actually basically overthrowing the current Constitution without a process and up to now the Referendum Law has not been passed," he said.
Kibwana recently joined Kericho and Nandi counties in seeking the court's interpretation on how the 2010 Constitution should be amended.
The governor, in the case filed before the Supreme Court, wants the court to rule on whether a proposed amendment to the Constitution should only be limited to one issue and whether national or county governments or state and public officers can promote constitutional amendment through a popular initiative.
Speaking to journalists on Monday, the Makueni boss said he believes that a bill meant to amend the Constitution should be limited to only one constitutional issue at a time thus safeguarding the Constitution from being abused, replaced, or completely overhauled and protecting the right of free citizen participation.

"It makes it easy for the public to understand what issue is proposed to be amended and for the people to freely exercise their will on whether to support the amendment without being confused about having to choose between too many issues," said the Makueni governor.

He is also asking the Supreme Court to clarify if the popular initiative route was set out exclusively for the people and whether it is legal for public and state officers to use the same to promote a bill to amend the Constitution.

The governor holds that the popular initiative was designed to be steered by the people and not state officers using state resources. He says an advantage for state officers will lead to unfair competition against any group or person seeking to oppose the bill due to their limited resources.
[Additional reporting by Judah Ben-Hur]