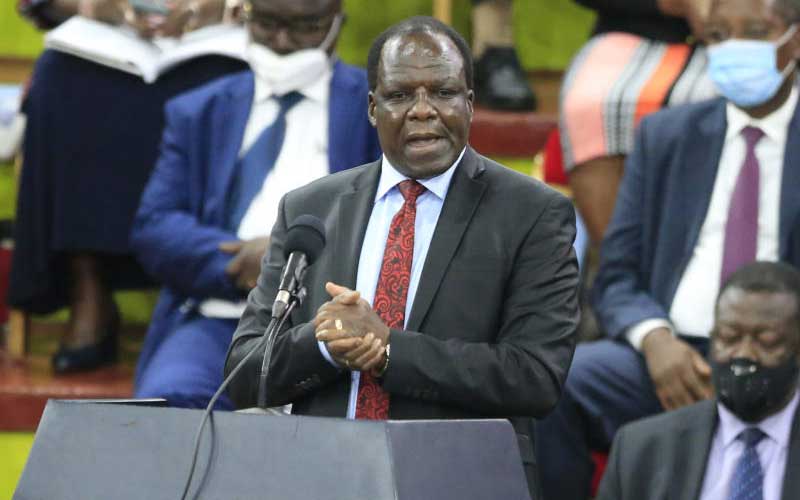 County governments are in a fresh cash crisis following delays by the National Treasury to release allocations for the last two months.
Council of Governors (CoG) chairman Wycliffe Oparanya (pictured) on Monday wrote a letter to Treasury Cabinet Secretary Ukur Yatani protesting failure to disburse funds for the months of September and October.
The latest financial crisis in the counties comes barely a month after Treasury released Sh52.2 billion to cover the months of July and August instead of the first quarter of 2020/2021 financial year as directed by the Senate.
Oparanya said workers in the 47 counties have gone without salaries for the last two months. He said implementation of development projects have also been affected by the delay.
Read More
"We note with deep concern the late disbursement of Equitable Share of revenue to county governments for the financial year 2020/2021," said Oparanya in the letter.
"Up to now, county governments have not received the September and October allocation as provided for in the Division of Revenue Act, County Allocation Revenue Act as stipulated for disbursement in the Cash Disbursement Schedule," he added.
The Kakamega County boss said continued delay in disbursement of the funds will negatively affect budget implementation by county governments.
He said the counties were already struggling to sustain their operations that include salaries to its workers.
"You are aware that this affects clearance of bills and leads to a rise in industrial action due to late payments of salaries. The purpose of this letter is to seek your urgent intervention to ensure no more delay in release of these funds," he added.
The counties had in mid last month received allocations for the months of July and August after the Senate resolved the revenue sharing impasse.
The devolved units were supposed to receive Sh79 billion from the National Treasury after the Senate approved the county government cash disbursement schedule for 2020/2021 financial year.
The House in a report by the Senate and Budget Committee recommended that the National Treasury disburses Sh79,125,000,000 to the counties within seven days.
But Treasury disbursed only Sh52.2 billion for the first two months of the financial year.
In the October disbursement, Nairobi County received the highest disbursement of Sh2.6 billion out of its annual allocation of Sh15.91 billion, Turkana County received Sh1.73 billion of Sh10.53 billion, while Nakuru County got Sh1.72 billion of its Sh10.47 billion.
Kilifi County, with an annual allocation of Sh10.4 billion, received Sh1.7 billion, while Mandera County got Sh1.68 billion for the two months from its allocation of Sh10.22 billion.
Lamu County, which has the least annual allocation at Sh2.59 billion received Sh428.2 million. Elgeyo/Marakwet County got Sh637.1 million out of Sh3.86 billion, while Tharaka/Nithi County received Sh647.5 million out of its Sh3.92 billion allocation.