Uhuru: Over 500,000 jobs at stake due to Covid-19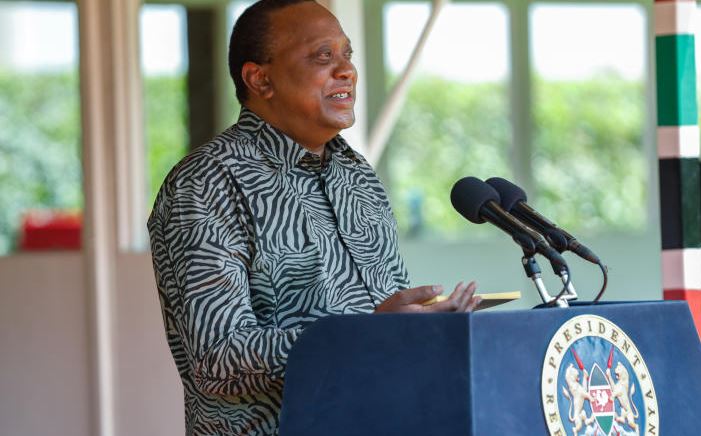 President Uhuru Kenyatta has warned that over half a million Kenyans could lose their jobs in the next six months due to the Covid-19 pandemic.
Uhuru (above) said the pandemic has continued to force businesses to close down because of short working hours in what could render thousands jobless. He made the remarks even as he called on Kenyans to unite in the fight to contain the viral disease.
Speaking at State House during a low-key Labour Day celebrations, the president said workers in the informal sector and casual labourers were the worst hit by the pandemic.
"In sum, we cannot relax in our efforts to conquer this invisible enemy and to put our economy on a strong growth path. Because if we do not, we could lose upwards of half a million jobs over the next six months," said Uhuru.
We must do whatever it takes to minimise, if not to fully contain such loss in jobs. My government is working to cushion, from the effects of the virus, the most vulnerable members of the society, especially low income earners. That is the reason why we have given tax relief," Uhuru said referring to the zero pay-as-you-earn tax on those earning up to Sh24,000.
Reacting to Central Organisation of Trade Unions (Cotu) boss Francis Atwoli to expand the relief up to Sh100,000, the president said: "We will try what we can, but again the country cannot be developed without taxes." The president said reduction of value added tax from 16 to 14 per cent was meant to assist all households.
"This pandemic cannot be defeated by the government alone, it will take the efforts by all of us," the president added.
Workers globally are struggling after their livelihoods were destroyed by the impact of Covid-19 on the economy as a result of lockdown in various countries to control the spread of the disease.
Consequently, the president rallied all sectors to join hands in containing the pandemic while asking Kenyans to support local products to ensure the economy survives the pandemic.
Embrace each other
"To flatten the curve of joblessness, we must embrace our Kenyan imperfections. We must do so by embracing that which is Kenyan. We must buy Kenya, build Kenya. That is how we shall survive," said the president. "If we buy Kenyan, we will build Kenya. And Kenya is each and every one of us. This must form the baseline of our survival strategy."
Uhuru also highlighted some of the measures his administration has taken to cushion the country from the biting economic effects of the virus, listing stipends to the elderly, vulnerable families as well as tax exception to low income earners.
"I have already announced the accelerated disbursement to the elderly and the indigent, coming from the Social Safety Net Fund. I have also announced the direct weekly cash stipends to thousands of vulnerable households in informal settlements and fragile rural areas," said Uhuru.
Other measures put in place by the government include "Kazi Mtaani", an initiative that seeks to give unemployed youths a source of income during this pandemic period.
Mr Atwoli shared similar frustrations, saying the country was on the verge of an economic meltdown. Atwoli applauded the government for putting in place cautionary measures to cushion workers on the cost of living during this period.
The Cotu boss, however, appealed to the president to extend the tax exemptions from the current Sh24,000 up to Sh100,000.
"We appeal to you that as you continue to protect us from this pandemic, consider extending your offer to workers for tax exemptions from Sh24,000 that you gave us up to Sh100,000 as this will go a long way in cushioning most of the lowly placed Kenyans and any other support you may deem fit as a worker number one," he said.
Salary rise
He said the pandemic had made it difficult for workers to demand for minimum wage increase as they have done yearly. The annual celebrations have been used by workers to push for minimum wage increment. Atwoli, however, lauded employers who have kept their employees on full salary despite dips in revenue due to the disease.
"Let me also take this moment to thank those employers who have kept workers in full employment despite the pandemic and particularly those who have gone ahead to enter into separate agreements with their respective unions to ensure no worker losses employment as per your directive," he said.
Some employers have sent their employees home while others have subjected them to pay cuts as high as 50 per cent following a dip in revenues. Atwoli took issues with the Salaries and Remuneration Commission for interfering with collective bargaining agreements negotiated by unions.