Governors seek donor help in coronavirus fight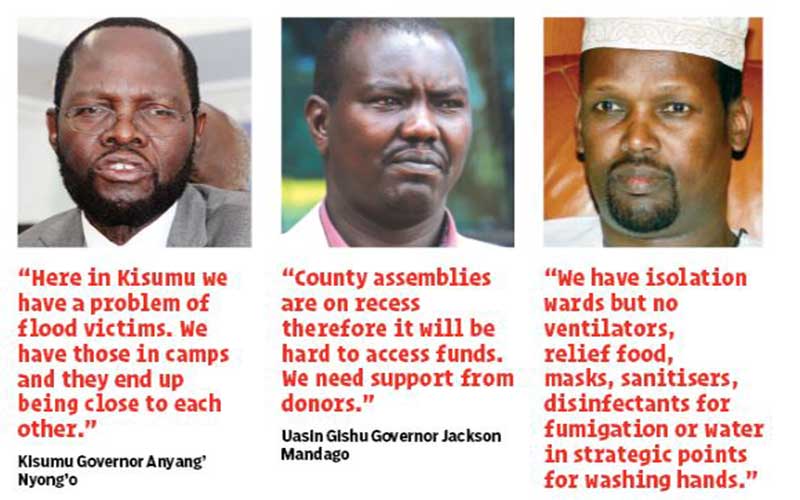 Governors are now seeking emergency support from donors for provision of relief food and medical supplies in the fight to contain spread of the coronavirus disease.
The county bosses yesterday said the devolved units are ill-prepared to combat the viral disease due to financial constraints as well as poorly equipped health facilities.
The governors – who went into a virtual emergency meeting that was convened by United Nations Resident Coordinator Siddharth Chatterjee – asked the development partners to engage the counties directly and bypass the national government, which they said "has a lot of bureaucracy."
They said it is becoming increasingly difficult to implement certain measures, like closure of markets, since they are unable to provide food rations to the vulnerable who survive on daily business activities in the centres.
The governors shared their views as the UN called for concerted efforts by the counties to prevent further spread of the disease.
"The battle we have now is a prevention battle, not treatment battle. How do we sensitise people to wash their hands, stop congregating and keep social distancing?" said Mr Chatterjee, as he committed to support coordination of the agency's response in the counties.
The Department for International Development (DFID) also committed to scale up their support for community sensitisation through counties as well as provision of cash transfers through the World Bank and International Monetary Fund (IMF).
Economic impact
The DFID is a United Kingdom government department responsible for administering overseas aid.
"The British High Commission is focused on economic impacts, health and nutrition, social protection/cash transfers and supporting financial flows through IMF and World Bank," said Nikolai Hutchinson, a senior governance advisor at DFID.
He added: "We are also exploring scaling up support to community sensitisation in support of county government plans. We have field-based staff and partners in many counties. We are interested to see county government plans for health, food supplies, quarantine and support to the extreme vulnerable and businesses."
Mandera Governor Ali Roba warned that residents are more exposed to Covid-19 because the county shares a porous border with Somalia and Ethiopia.
"Border counties face double jeopardy. Mandera borders Somalia for 300km and Ethiopia another 300km. Somalia health services collapsed over two decades ago.
"No single county is prepared. We have isolation wards, but no ventilators, relief food, masks, sanitisers, disinfectants for fumigation or water in strategic points for washing hands in the arid and semi-arid counties. We need a quick fix of food aid when we close the markets," Mr Roba said.
Similar appeal
A similar appeal was made by Kajiado Governor Joseph ole Lenku, who said it is impossible to enforce closure of the markets in the absence of emergency relief food for the affected.
"We are unable to implement some of these measures like closing markets because some of the people depend entirely on the markets to eke a living," said Mr Lenku.
Uasin Gishu Jackson Mandago said counties are facing a financial crisis because they don't have money after ward representatives took a break from plenary sittings.
"County assemblies are on recess therefore it will be hard to access funds. We need support from donors," said Mr Mandago.
The governor also asked for support to equip health facilities with medical supplies as well as access to emergency funds to help provide relief food for vulnerable families.
Governors Anyang' Nyong'o (Kisumu), Wycliffe Wangamati (Bungoma) and Cornel Rasanga (Siaya) said the three devolved units were at risk due to cross-border movement of people from neighbouring Uganda.
Prof Nyong'o warned that the anticipated long rains will force some residents out of their homes into temporary settlements.
"Here in Kisumu we have a problem of flood victims. We have those in camps and they end up being close to each other," he said.
The governor also called for a teleconference with the national government on the pandemic.
Rasanga said the case of a Catholic priest who tested positive for Covid-19 has exposed the county after details emerged of how the cleric attended a burial in Ugunja and presided over a Mass.
"In Siaya we need more support because we have contacts from the globe. We don't have anything at all in our support system. It will be necessary to get direct support from donors."
He warned that many people may have been exposed to the virus through contact with the priest. "When one person is in contact with a patient, it becomes very difficult because the person ends up meeting about 20 to 30 people."
Makueni Governor Kivutha Kibwana said health ministers in the 47 counties will draw up their health needs while planning ministers should list their socio-economic needs before the counties can engage the national government.