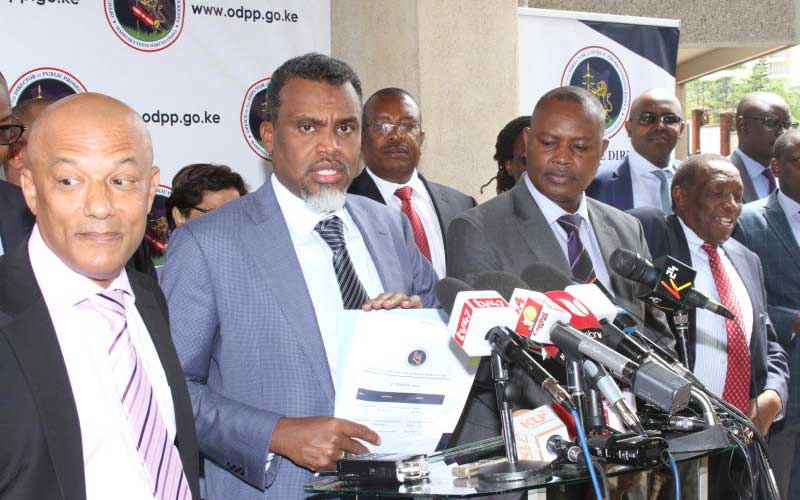 The family of a vocal Nakuru politician and a senior lands officer are facing prosecution over irregular acquisition of private land.
The Sunday Standard has established that the politician, his wife, daughter, brother and bodyguard are among 11 people who allegedly connived to snatch away 65 acres of land in Subukia, disguised as squatters.
The land registrar, according to the investigators, colluded with the beneficiaries to irregularly transfer to themselves the parcel, which is registered in the name of Joseph Gaitho Mwago.
Consequently, the Office of the Director of Public Prosecutions (ODPP), through Senior Assistant Director Daniel Karuri, has now directed the Directorate of Criminal Investigations (DCI) regional coordinator, Rift Valley, to arrest all the 11 people incriminated in the alleged land grabbing.
Read More
"After carefully perusing the entire file, I note that the complaint by Joseph Gaitho Mwago that his portion of land has been grabbed was thoroughly investigated and I concur with your findings the evidence on record implicates the suspects with several offences," reads the letter dated February 27.
Investigators also want a land registrar, who we cannot name at this juncture for legal reasons, prosecuted for abuse of office.
The politician's wife, brother, bodyguard and some two women associated with the Nakuru County administration will face three charges of obtaining registration of land by false pretences, forcible entry and forcible detainer.
When we called the politician yesterday, he said he knew the beneficiaries whom he said came from his area and insisted they were squatters.
He was however angry when asked about some of the names.
"Why have you started with that name? All this is politics. Why of all the 16 people did you start with the name? You must have been paid to follow up this issue."
The politician was incensed because the writer asked him his relationship with some suspects, said to be his wife, daughter, brother and bodyguard. He said the matter was still under investigation and none of his relatives had recorded statements with the DCI.
According to investigators, when the suspects were invited to record statements with DCI, the politician volunteered to do so on their behalf and indicated they were squatters from his area.
The land in dispute is part of a 500-acre parcel that originally belonged to the former EK Bank Managing Director Walter Pinky.
Pinky was forced to transfer the land to one of his employees, Njuguna Mwaura Mbogo, who went to court in 2001, stating that he had been in the farm for 25 years and was therefore entitled to a share of it.Since Mwaura had no finances, he agreed with Gaitho that the latter was to finance the legal battle and in return he would get a portion of the estate valued at Sh55 million at the time.
Although the case was heard exparte, Pinky later agreed to transfer the land to Mbogo who in return gave a portion to Gaitho as per their agreements.