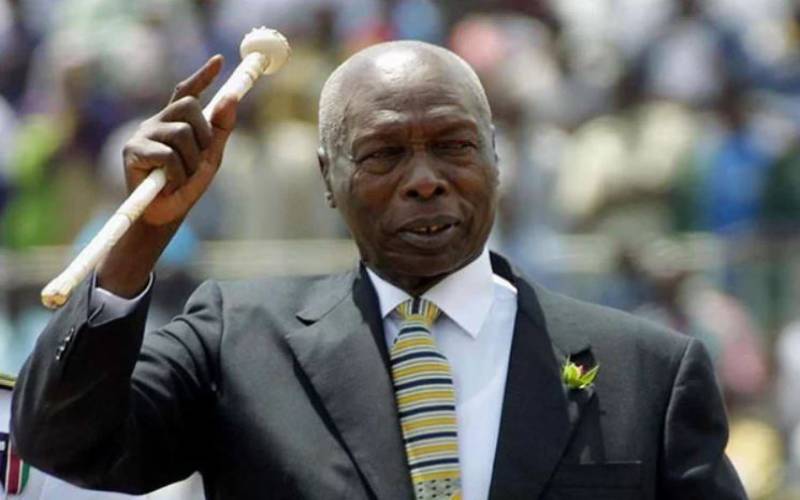 The death of former President Daniel Toroitich Arap Moi on Tuesday morning rekindled memories of his 24 years as the second President.
Immediately President Uhuru Kenyatta announced his death in a presidential proclamation, people flocked in various social networks to express their condolences.
Netizens posted what they remembered Moi for.
Some remembered Mzee Moi for the famous "Maziwa ya Nyayo," - Moi's free milk programme that was introduced in 1980 and was fully funded by the government.
Read More
The milk was distributed to primary schools.
MajiMaji I remember President Daniel Arap Moi for Maziwa ya Nyayo...... #Brekko #RIPPresidentMoi pic.twitter.com/U2A1CcPHIV — Mashaa DX (@mashaa_dx) February 4, 2020
KTN's senior reporter Patrick Amimo is among the people who tested the Nyayo milk and he recalls how the milk was vital for his education.
"I had the chance to taste the Nyayo milk. It was very delicious. When you looked into the logo you would see a photo of sportsmen because at that time Kenya was advanced in sports," said Amimo.
Most described him as a polite man who would turn his political rivals into friends.
A tweep posted a short clip of Mzee Moi burying the hatchet with rivals during his 24 years as President. That is what the Tweep said would remember Mzee Moi for.
"Kama kuna mtu amenitukana, nimekusamehea, na kama nimekukosea, unisamehe. (If there is anyone who insulted me, I have forgiven you. And I have wronged you, forgive me,)" said Moi when he was about to relinquish power.
I remember mzee moi for this????#RIPMoi pic.twitter.com/oVzpJWfmmd — KIMARU (@Kimaru_kim) February 4, 2020
Former Presidential aspirant and Narc Party leader Martha Karua praised Moi for a peaceful handover of power terming it as Kenya's greatest gift to democracy.
Following his handover, Kenya had the most peaceful election witnessed in the voting history in the country.
My condolences to the family and friends of the late Rtd President Moi on his passing on. His greatest gift to kenya's nascent democracy was the peaceful handover of power after the 2002 elections, a tradition we must maintain. #RIPPresidentMoi — Martha Karua (@MarthaKarua) February 4, 2020
Karua's sentiments were echoed by Mombasa Governor Ali Hassan Joho who hailed Moi for managing a peaceful political transition.
Joho also recognized Moi's contribution to education in the country. The Former President is also remembered for building learning institutions in plenty to make education accessible.
Before venturing into politics, Mzee Moi was a teacher from 1946 to 1955. Many have attributed this to be the reason behind his efforts towards promoting education during his tenure as president.
Some tweeted Moi's memorable statement "Siasa mbaya, maisha mbaya" which translates to 'bad politics, bad life'. Some averred that the statement could not be truer now than it was then.
The statement accredited to Mzee Moi evoked memories political song in 2016 by Justus Ngemu who sang against social injustices in Kenya as a result of bad politics.
Mzee Moi died Tuesday morning at around 5. 20 am at the Nairobi Hospital. He died in the presence of his family including his son Baringo Senator Gideon Moi.
"He passed away peacefully. I was by his side and the family accepts. I want to give the heartfelt gratitude to Kenyans and non-Kenyans for the prayers and thoughts they gave to Mzee and our family," said Gideon
Mzee Moi was born in 1924 in Kabarak village, Baringo County. He died at 95 years old.
He served as the second President of Kenya for 24 years.
Moi ascended to power in 1978 after the death of his predecessor Jomo Kenyatta. He was in office up to until 2002.