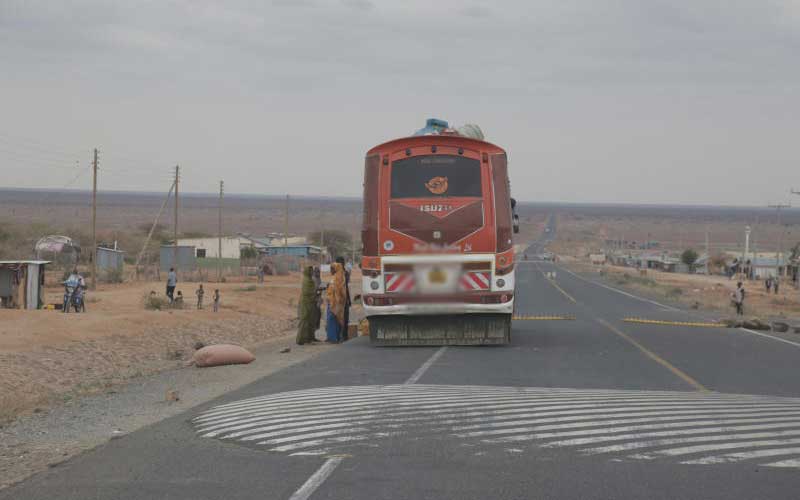 The 500-kilometre stretch of road between Moyale to Isiolo town is perhaps the most policed highway in the country. There are eight road blocks along this highway linking Kenya to Ethiopia. The first is at Odda, about nine kilometres from the border and at Sololo Junction, Walda, Turbi, Marsabit, Merille, Archer's Post and Isiolo. At Odda, six armed police officers man the road block placed strategically at the junction where an unpaved road from Mandera joins the Moyale–Isiolo highway. All of the other barricades are like this -- police officers instructing passengers to alight from vehicles, checking their identification documents and conducting a cursory check of their luggage before waving them past.
SEE ALSO: Woman held for burning her son's fingers with kerosene
Yet it is instructive of the sophistication of migrant smugglers and complicity of police that despite the barriers, Kenya is struggling to stem the flourishing flow of migrants and the illegal business of migrant smuggling and trafficking at the Moyale border post. It is an indictment of the law enforcement that only a week ago, a police officer based in Garissa was arraigned for facilitating the irregular entry of undocumented migrants into the country using a government vehicle. The Administration Police Service constable was arrested on July 19 along Juja Road in Nairobi with five Somali nationals.
Police vehicles
In a second count, the constable was charged with unlawful use of a vehicle belonging to the Ministry of Interior.
SEE ALSO: Members of elite police unit arrested over armed robbery
Reports of police and government vehicles being used to smuggle migrants into the country are not new. In August 2015, 80 foreigners of Ethiopian origin were arrested in Laare Town near Maua in Meru County being smuggled aboard a General Service Unit (GSU) lorry. There are also confirmed reports of migrants being smuggled aboard Kenya Prison Service and parastatal vehicles. Investigations conducted by undercover Sunday Standard reporters ascertain the involvement of police officers in this clandestine trade. While posing as individuals with an interest in the smuggling trade, we contacted agents based in Moyale who separately referred us to a police officer identified as Hussein based at Moyale Police Station who could arrange a police vehicle that would smuggle the migrants to Isiolo.
SEE ALSO: DCI officers arrested over robbery, extortion claims
A meeting planned between us and the officer at Members Club in Moyale Town on Wednesday July 31 aborted after the middle man, a soap vendor who moonlights as a smuggling agent, said the officer was hesitant to meet us unless we had already recruited the migrants. Another agent, this time a woman from Nakuru, provided us with the contact for the same police officer. "He will get you a police car but getting a vehicle from Moyale is difficult so nowadays he gets vehicles from police stations in the interior," she said. Most of the arrests made, she claimed, came from tip-offs by rival smugglers and fallouts between police officers and the smugglers over money. As a result, the police are intercepting more migrants than ever before. Yet going by the number of arrests made in Kenya and other countries along the migration corridor such as Tanzania and Mozambique, the number of migrants pouring out of Ethiopia is still anecdotally high. The US Department of State recognises Kenya as a source, transit and destination country for migrants. Comments published by US Department of State in Monitor and Combat Trafficking in Persons reports indict Kenya for not prosecuting law enforcement officials who facilitate trafficking and smuggling. "Traffickers sometimes fraudulently obtained identity documents from complicit officials and police often took bribes to warn traffickers of impending operations and investigations, particularly along the coast," the report says. Kenya, the report went on, reported an unspecified number of investigations into law enforcement officials who allegedly facilitated trafficking, although it did not report any successful prosecutions or convictions.
Stamped passports
The police and immigration department's efforts in dealing with trafficking are uncoordinated and create a conducive environment for trafficking. Immigration officials have also been adversely mentioned as facilitating the trade. "We stopped the bus and inside were about 30 Ethiopian youth aged between 18 and 30. They all had passports and said they were visiting relatives, were tourists or were on business, yet none of them had a change of clothes or could say where the relatives they are visiting live," said a police officer from Nyeri. The officer said their hands were tied since the Immigration Department had stamped the passports. "You can tell that they are on transit but there is little you can do to stop it since the passports have been stamped by immigration," he said.