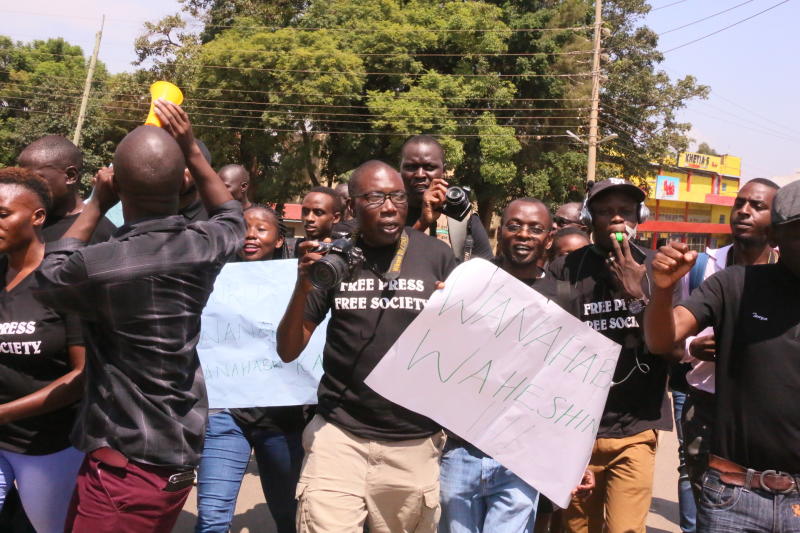 Journalists have asked the government to revive investigations into atrocities committed against their colleagues in the past 10 years.
As they celebrated the World Press Freedom Day on Friday, journalists in Kisumu, Kisii and Migori said two of their colleagues had been killed in Kisii while several others attacked and injured by police while on duty.
Kisii Journalists Association chairman Joshua Araka asked the government to tell Kenyans who killed Francis Nyaruri and Johnson Nyakundi.
Nyaruri, who worked for the Weekly Citizen, was killed in 2009 and his body dumped inside Kodera Forest, while Nyakundi, who worked for Voice of Victory Television, was found dead in his house at Jogoo Estate last year.
"Journalists want to be told what happened to their colleagues Nyaruri and Nyakundi who died in mysterious circumstances. We are yet to see those who killed them being brought to justice," said Araka.
Read More
Two Standard Group journalists, Isaiah Gwengi and James Omoro, are still seeking justice after they were beaten up by police in 2017 and 2018.
Gwengi was attacked by Administration Police officers at Usenge while on duty and locked up in the cells, even after he was seriously injured. His attackers were only transferred but not prosecuted.
Omoro was last year attacked by police as he covered a fight between MCAs at the Homa Bay County Assembly. The officers also destroyed his camera.
Gwengi and Omoro asked Interior Cabinet Secretary Fred Matiang'i to ensure the officers who attacked them were arrested and prosecuted.
Kisumu Journalists Network chairman Rushdie Oudia asked the Independent Policing Oversight Authority (IPOA) to act on pending cases of attacks on journalists by police officers.
In Nakuru, journalists, led by Kenya Union of Journalists (KUJ) county chapter Secretary General Kioko Kivandi, urged the government to embrace an open-door policy on matters of public interest.
"Some government officials have been withholding crucial information that Kenyans need. As a result, they create room for fake news, which is hard to counter," said Kioko.
KUJ Nakuru branch chairperson Mercy Kahenda urged colleges and universities teaching journalism to bridge the gap between newsrooms and what is taught in class.
"Ill-qualified journalists and citizen journalism have also been a major contributor of fake news that present the profession in bad light," said Kahenda.
Standard Group photographer Joseph Kipsang recounted the hostility they encountered from locals while covering an event in Baringo County.
"Covering conflict-prone areas is a major challenge and in most cases, journalists are left to protect themselves," said Kipsang.
The journalists observed a moment of silence in honour of Mr Tony Ngare, former Communication and Information Programme Deputy Director at Kenya National Commission to Unesco, who was among the 137 passengers who died in the Ethiopian Airlines plane crash in March.
In Embu, journalists planted trees at the county information office to mark the day.
They urged reporters to focus on stories that empower the community to grow.
Embu Media Association Patron Steve Gatheru said the media should understand the needs of communities, issues the people face and possible interventions by the state and other actors.
"I'm happy to say today we have freedom to publish and we should appreciate it. Freedom comes with responsibility. We should not use that freedom to the detriment of society," said Gatheru.
Association chairman Joe Muriithi asked journalists to keep the government accountable to the public.
[Edwin Nyarangi, Kennedy Gachuhi and Joseph Muchiri]