Kenya students emerge top in international innovation to help disabled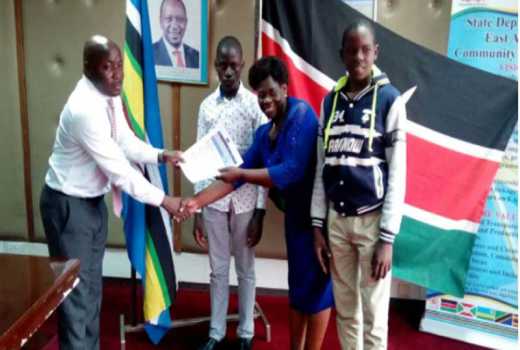 It was a dream that they never imagined would come true.
But imagine making it possible for persons without fingers to use a computer mouse to click away into the rich information database.
And this happens through an innovative special shoe customized for persons with hand disabilities.
Two high school students in a little known school in Kisumu County devised a special shoe that would make it possible to use feet to click into a computer normally.
Lipson Ochieng (17) and Joshua Ouma (18) say that the devise called "Kachapchap" is a computing input device adaptive to persons without fingers.
This means that as the government implements the Digital Learning Programme in public schools, a number of students in special schools may benefit from the new innovation to enjoy computer lessons.
The good news is that the two students shocked the world last week when they made their presentation in America emerging the only African students in the innovative competition and top five in the overall score.
The Form Three students of Ken Obura Secondary School from Migosi in Kisumu County, have were humbled when an international panel assessed their work and rated them highly at the University of Delaware.
"It all started last year around May when we visited Joyland Special School in Kisumu Central constituency. We saw two hand-disabled pupils who had no hands completely left out while others continued using the government-distributed laptops," said Joshua.
The sight disturbed him.
"This made us pity them and we thought of how to help them. I had the idea of a foot mouse but I did not know how it would work," he said.
He explained that he had to figure out how to connect a Bluetooth receiver inserted on the laptop and another one installed in the shoe to transmit information.
"An Information and Technology expert helped us know how to connect the two and our dream started to become true," said Joshua.
"We brainstormed about the idea and this is how we came up with the gadget," Lipson said.
Looking straight up, the two students explained that in the global ICT village, persons with hand disabilities should not be left behind.
"This will be achieved by providing students and non-students who have hand disabilities with adaptive technology that will assist them in computer studies. Kachapchap offers the better solution," the two excited students said during the interview at Standard Group offices in Nairobi.
But there is a cost implication. Each shoe would cost Sh2, 967.
"We are calling upon well-wishers and funders who can help us with the amount so that we can produce more gadgets in large scale to reach many people," said the two young innovators.
The two students currently depend on a local cobbler to make the shoes.
Already, some five shoes have been distributed to Joyland Special School.
What is however exciting to the young innovators that they emerged top in the country in the 2018 Diamond Challenge for high school entrepreneurs.
Former Kisumu Central MP, Ken Obura, who also funded the students' trip to the USA, put up the three-year-old school using CDF money.
The school is set to sit its first KCSE examination this year.
"It is thrilling to have top young innovators come from this school. It motivates me, their colleagues at the school, in the county and nation at large. I wish them all the best as they prepare to sit their first form four examinations," said Obura.
School Principal Mary Oruko, who together with teacher Isaack Odinga Anjenjo accompanied them to the US, said two did well because of their excellent presentation and ability to answer hard questions from judges.
"We were encouraged by judges to improve on the technology and present it in the 2019 challenge. The idea was unique and surprised many judges," said Ms Oruko, who is also chair of Kenya Science and Engineering Fair in Kisumu Central.
The international competition was organised by the University of Delaware.
The competition offers an opportunity to high-school students in Africa to display their innovative capabilities.
Through the programme, the students develop new business ideas, gain valuable knowledge and skills and compete for a share of the Challenge's prize pool.
At the national level, the competition was held at Maria Soti Girls Educational Center in Elgeyo Marakwet County.
The two students competed under the Social Innovation and Business Concept category.
Other competitors were Kajire Girls High School in Taita Taveta County who presented a technology solution for keeping elephants off human settlements.
Maria Soti Girls presented a multipurpose "jiko", (stove), that addresses colossal wastage of heat energy and its by-product, smoke from fuels such as wood.
"We managed to be position five after battling out with 55 teams from all over the world in two categories of Social Innovation and Business Concept category," said Lipson.
While there, they also met African Union ambassador to US Dr Arikana Chihombori.
To fight drought, involve communities
According to the latest information from the Meteorological Department, rainfall will be poorly distributed in April, May and June, and this will have a serious impact on agriculture