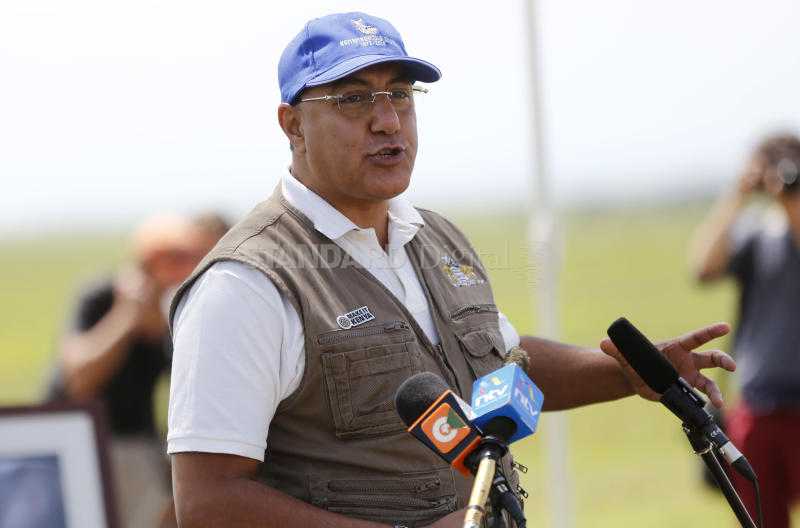 Poachers deserve harsher sentences, Tourism and Wildlife Cabinet Secretary Najib Balala said.
Speaking at Ol Pejeta Conservancy in Nanyuki during the memorial service of Sudan, the last Northern male white rhino that died two weeks ago, Mr Balala said light punishments have contributed to a rise in poaching.
"We are going to change the laws so that anyone who kills an animal or caught with animal trophies will be jailed for life. We want tougher penalties to protect our heritage," he said.
The CS noted that the Government's move to burn Ivory stock worth Sh200 million two years ago demonstrated its commitment to protecting and conserving its wildlife.
"We need to pay a greater role particularly in saving the endangered species like Sudan," said Balala.
Read More
He pointed out that the State is seeking for partnership to deal with the poaching menace.
The minister cited the partnership between Kenya Wildlife Service and Space for Giants- international wildlife conservation body to develop a prosecution tool kit for investigation of wildlife crimes.
The tool kit which will be used in four countries- Kenya, Uganda, Botswana and Gabon- will help increase the conviction rate to over 90 percent. The four countries are most targeted by poachers because they host half of Africa's elephants.
"We do not want to decrease poaching, we want a zero tolerance on anti-poaching," he said.
In honour and memory of Sudan, he said the State will establish an educational centre where the trophy of Sudan among other iconic wildlife species would be preserved to educate future generations.