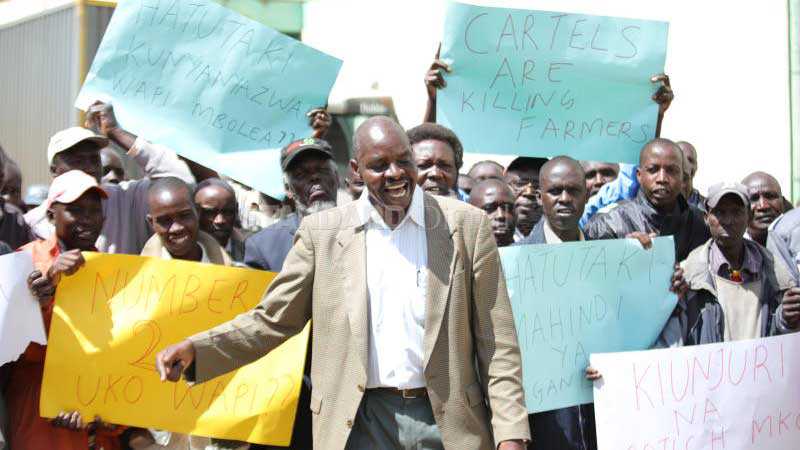 Maize farmers in the food basket of North Rift are staring at a crisis as errors by the government pushes them to the deep end.
With the planting season already underway, the Government is yet to avail cheap fertiliser as is the tradition.
Meanwhile, the Government is no longer buying last year's harvest from farmers due to lack of cash. The farmers have now dumped their produce in the markets, and may sell it at a throw-away price, after they were left with no option.
The Sunday Standard understands that the National Cereals and Produce Board (NCPB) is nowhere near to purchasing the seven million bags of maize it must have in its silos to keep maize prices steady.
Instead, the Government is now questioning the beneficiaries of the second round of the subsidy programme it introduced last year after the country ran out of maize.
Read More
The Ministry of Agriculture claims it has been paying off unscrupulous traders who have simply been buying maize from Uganda to sell to the government. This means billions of tax payers' money has been subsidising Uganda and Tanzanian farmers.
Cabinet Secretary for Agriculture Mwangi Kiunjuri said the Government was surprised by the huge turnover of trucks at the Nakuru, Eldoret, Moi's Bridge and Kitale NCPB depots. He said some of the trucks came overnight amid increased maize imports through Isebania, Busia and Malaba.
Mr Kiunjuri said that on Thursday, there were 40 trucks in Nakuru yet by Friday morning, this had increased to 150.
Precipitous ascend
Yet when the Government sought to vet them, only two were willing to indicate where their farms are located.
"Even if you are a trader, would you not be tempted to go to Uganda and buy maize there and come and sell to the Government at a profit," the CS said.
The Government now says only farmers who can indicate where their farms are located will be allowed to sell maize to NCPB.
According to the Eastern Africa Grain Council's Regional Agricultural Trade Intelligence (Ratin), Kenya is the main destination for maize and beans.
Maize from Uganda is on a precipitous ascend as exports from Uganda increased by 78 per cent.
"This increase was due to the average 2nd rain season harvest coupled with the attractive prices offered in the Kenyan urban markets," Ratin said.
Ratin said there was also an increase in Tanzanian maize traded in Kenya.
The Government is mopping up excess maize at Sh3,200 a bag compared to a landing price of Sh2,100 in Nairobi thus attracting cartels to the Sh10 billion subsidy programme.
The Ministry is struggling to fund the budget for the programme with the shortfalls angering farmers who are desperate to use the money to buy fertiliser and other farm inputs for the next crop. The last few days have seen farmers in the region stage demonstrations over government delays in releasing millions of shillings for maize supplied to NCPB and difficulties in accessing subsidised fertiliser. Farmers want to plant on time as heavy rains pound the region but are yet to get their money so they can prepare farms and buy inputs.
Mr Jeremiah Koskei, a maize trader in Eldoret said desperate farmers were selling their produce to them for as low as Sh 2,000 or Sh 2,100 per 90 kg bag. This is so that they can purchase seeds and fertiliser following delays by the government to pay them. "We have no option but to assist farmers who sell their extra stocks at low prices since they have no alternative sources of money to buy inputs. Farmers sell on willing seller, willing buyer basis," he said.
Several lorries, tractors, pickup trucks transporting hundreds of bags of maize to NCPB had formed a long queue in Eldoret, stretching over two kilometres into town. According to farmers, the board is receiving produce at slow pace.
"We voted for this Government with many expectations it will give priority to agriculture, the country's economic backbone and source of employment for majority youths," said William Birech, a farmerfrom Uasin Gishu County.
The CS said that he expects even more fierce backlash from the cartels following his order to vet and list farmers before buying stocks.
"Those in the queue will have to be vetted and because these people are not farmers, I know they will start to incite people," he said.
Kiunjuri says over the years, the capacity the Government supported was a million bags. However, this year, they are being forced to take upwards of 2 million bags.
"As of March, the Government had purchased 3.4 million bags worth Sh10.98 billion. Out of this, farmers have already been paid Sh7.05 billion leaving a balance of Sh3.93 billion," the CS said.
He said he was planning to re-allocate Sh1 billion in ministry to the programme and expects additional funds from the supplementary budget.
"The cycles of demonstrations during planting and harvesting season have become a culture. Farmers are forced to exert pressure on the Government to avail subsidies during planting. They also protest to the government so their produce can be bought," said Kipkorir Menjo, the Kenya Farmers Association (KFA) director.
Menjo blamed cartels in the supply chain whom he claimed, are well connected individuals doing business at the expense of farmers.
[Otiato Guguyu, Titus Too and Joan Letting]