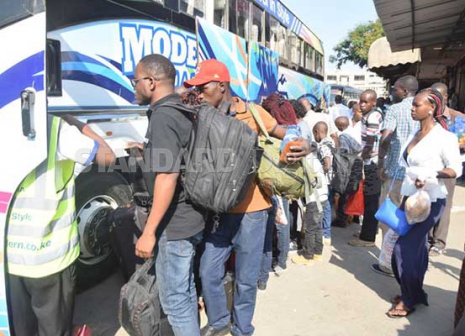 A human rights agency has urged all security actors to strictly adhere to the golden rules of crowd control during and after tomorrow's elections.
Kenya National Commission on Human Rights (KNCHR) urged the security personnel not to use excessive force and firearms, and also warned against arbitrary arrests or torture.
"The use of excessive force and firearms is illegal and we will be on the ground to monitor the conduct of all officers who operate contrary to this," said Kagwiria Mbogori, KNCHR chairperson.
"The Constitution remains in place even during the General Election and after, and no rights shall be limited or suspended unless as expressly provided for by our supreme law," she added.
Read More
The commission gave Kenyans a toll free line (0-800-720-627) to call in case there are challenges IEBC is unable to handle.
Mass movements
They also asked the security agencies to heighten vigilance in areas where residents have complained of threats and intimidation and others branded as hot spots.
"We are deeply concerned about mass movements of people from urban areas in fear of possible violence. This has hiked fares and is not only disadvantaging families but also causing unnecessary panic," said Kagwiria.
The commission also expressed concern over Lamu residents who it says may fail to vote as a result of regular Al Shabaab attacks.
"Many people in IDP camps, particularly Kasakakairu and AIC Church Mpeketoni may not be able to vote since they left their IDs behind as they fled," said Mbogori.
KNCHR also warned various parties and candidates encouraging citizens not to leave polling stations after casting their ballot in the name of safeguarding poll malpractices.
"The Elections Act provides the minimum number of persons per party allowed at the polling stations. It also outlaws gathering within 400m of a polling centre, thus security agents will be at hand to contain people who violate this law," said KNCHR Chair.
She said the politicians urging voters to stay would be held liable for any malpractices that may arise.
The commission also asked the Inspector General of Police to employ intelligence to avert politically instigated deaths.
"There have been deaths under mysterious circumstances of key persons to the process as has been witnessed in the loss of the IEBC ICT Deputy Director Chris Msando and the recent deaths of Emgwen Constituency parliamentary aspirant and ward aspirant for Murang'a. We ask that not leaf is left unturned in finding the killers," she said.
The human rights body also urged Kenyans to remain calm and peaceful during and after the polling day.