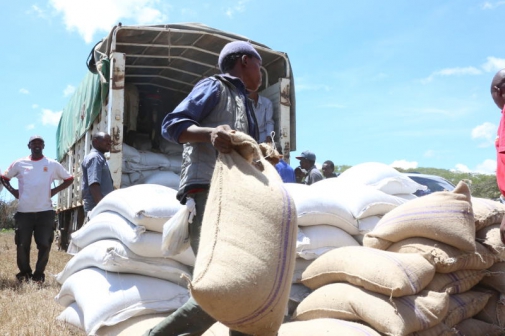 The Government has approved Sh7.4 billion to be spent on the second phase of the drought mitigation programme.
The money will be spent between now and April.
"The third phase will run from May to July," said Richard Lesiyampe, the Agriculture principal secretary.
The Government spent Sh5.5 billion from September to support 1.5 million people affected by drought.
The money was spent on relief food, nutrition, water, animal feed, livestock disease management, drought tolerant seeds and re-positioning of strategic food reserve stocks.
Read More
The United Nations, European Union, China and Denmark have come on board to supplement the Government's efforts.
Stefano Dejak, the EU ambassador, pledged Sh1 billion of the Sh3 billion awarded to the National Drought Management Authority to go towards cash transfers for the elderly, orphans and vulnerable groups in the affected regions. Denmark has also pledged Sh500 million for direct water trucking while China has promised to provide logistical support to supply food.
Head of Civil Service Joseph Kinyua pointed out that there was still a Sh11 billion deficit.
Meanwhile, Robert Godec, the US ambassador, has issued a formal US Government declaration that a major disaster exists in Kenya's arid and semi-arid lands (Asals).
This clears the way for the US Government to provide emergency funding for response activities and to re-programme current resources.
The Agency for International Development has provided over Sh10.9 billion for relief food, emergency nutrition response in Asals, and programmes to build resilience in affected communities.
"As a strong partner with Kenya for over 50 years, the United States is committed to working with the Government and the people of Kenya to address this immediate emergency and protect lives and livelihoods," said Mr Godec.
The envoy toured parts of North Eastern region last week to familiarise himself with the situation and encourage residents to register as voters.
The Kenya Red Cross Society is aiming to raise Sh1 billion to address humanitarian needs. A joint initiative has been launched and is expected to reduce the nation's vulnerability to catastrophes.