Police officer tells of how he once let go Kavuludi after arrest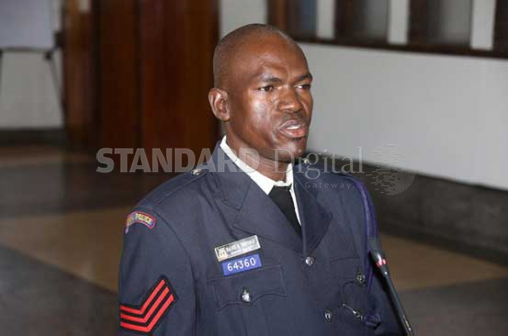 A police sergeant based in Kericho station has told a vetting panel of how he once caught a commission boss speeding.
David Ken Onyuka shocked the National Police Service Commission vetting panel when he told it how he once let its chairman, Johnston Kavuludi, off the hook for speeding.
Mr Onyuka said Mr Kavuludi was among the people he had in the past allowed to proceed with their journey despite them speeding.
On the fateful day, Kavuludi was driving from Nairobi to Kisumu when he was stopped at Kericho for speeding at 138km per hour.
He was prompted to mention the chairman after he was asked by Kipkoech Ngetich, a representative of the Kenya Law Society of Kenya whether he had at times forgiven motorists caught speeding.
"I have forgiven a number of motorists like the NPSC chairman at Kericho. His driver was speeding at 138km, I stopped the vehicle, saluted the chairman and allowed the driver to proceed," he said.
RESPECT FOR CHAIR
Onyuka said he never let go the driver because he was seeking favour during traffic police vetting, but because of respect for the chairman.
Take a quick survey and help us improve our website!
Take a survey
He further said he is always moved by the suffering of people in society, especially expectant mothers and the sick.
"We are all human, and it would be cruel to hold a vehicle with an expectant woman or a sick person. There are several occasions I allow them to proceed but with caution," he said.
On finances, the panel revealed that the officer had received Sh4 million, money that was deposited to his M-Pesa account between 2012/13.
He was further asked to explain sources of Sh1.5 million that was transacted through M-Pesa agents, but he was reluctant to explain.
The sergeant revealed to the panel that he always received money from civilians especially when he was based in Githunguri, Kiambu.
Commissioner Mary Owuor told the officer that sending money via M-Pesa agents amounted to concealing identity in shrewd dealings.
Onyuka surprised the session when he said he was never bothered to know the people who were sending him money because it was against the African culture.
He joined traffic in 2009 after serving general duties in Mombasa, Samburu and transit goods escort in Mariakani. Asked by Kavuludi why he did not return the money, he responded saying it was not African to return money given in good faith.
Unlike other officers who have appeared before the panel claiming to be members of chamas, the officer said he was not a member of any because he did not see any reason to join one.