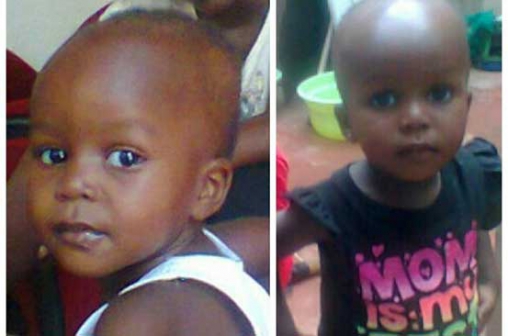 A house help has disappeared with a two-and-a-half-year-old baby, leaving the child's parents in great agony.
The house help, a Ugandan by the name Jessica Nawire was last seen leaving Villa Franca Estate in Imara Daima, Nairobi, while carrying the child on Wednesday at around 10am.
The house help was seen by a neighbour walking out of the gate with the baby, Kaitlyn Amanda Owino.
"A friend called me at around 1pm to tell me what he had seen and asked me if we had sent her anywhere since she had not been back since 10am," Kaitlyn's father Francis Owino, 32, said yesterday. He was then in Juja.
He immediately called his sister who went to check what was going on. She found the house in a mess, with the house help and the baby missing and looked for her throughout the estate for two hours in vain.
Read More
A security guard also said she saw Nawire walking out with the baby but did not suspect anything was amiss as she had done that several times before.
When Mr Owino and his wife, Fiona Akinyi, 30, rushed back home from work, they reported the matter to Villa Police Station, the area chief and at Embakasi Police Station.
The house help does not have a phone, but had been seen making calls on Saturday and on Monday through another worker's phones, which was confiscated by the police for investigations.
However, details of the last people contacted had been erased from both phones.
After posting their predicament on Whatsapp groups and Facebook, that evening the couple received a tip-off that a woman with the house help's description had been seen carrying a baby and asking to be directed to the bus stop for Uganda buses.
The missing child's grandmother waited at one of the bus's stopover close to the Kenya-Uganda border, where she searched 15 buses with the help of border police to no avail.
The house help had only been with the family for one-and-a-half weeks. They had found her through a referral from Fiona's mother's friend in Buguom, Uganda.
"She (house help) was very pleasant and good with the children and there was nothing unusual about her, even the last time we talked that morning," said Fiona.
"This is a very bad experience for us. But we are focusing on getting the word out. We are hopeful Kaitlyn will be found," said Owino, a father of two.
If you have any information on the whereabouts of the missing child, kindly call 0729342353 or report to the nearest police station.