Confusion as Kavuludi and Boinnet issue conflicting lists of promoted officers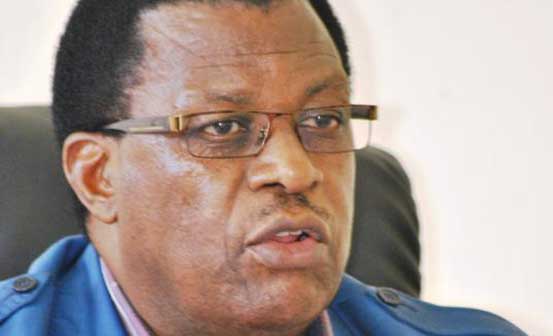 Confusion has emerged after the National Police Service Commission promoted 52 senior officers.
Hours after the names of the officers were published, the Inspector General of Police Joseph Boinnet issued his list leaving out at least six officers including spokesman Charles Owino.
This exposed differences over running of affairs within the commission where the IG and his deputies are members. Insiders blame the conflict on some officials at the Harambee House office who want to continue to control the police affairs for their selfish benefits.
The release of the different lists Friday created anxiety and confusion with each of concerned parties blaming the other.
The commission had met on Tuesday and ratified a list of those to be promoted as per the law. It was then that a list of 52 names was sent indicating those who benefited.
Legally, it's the commission which promotes before the IG sends letters to those affected.
When the IG sent the names, those of Owino, Mary Omari, Noah Mwivanda, Fred Situma, Rosemary Kuraru, Jackson Kazungu, Jebel Ngere and Gitari Njoka were missing.
The commission had promoted deputy principal assistant to the Deputy Inspector General of Kenya Police Kingori Mwangi, head of operations Benson Kibui- Kenya police and APS' Peter Pamba and Peter Mureithi and General Service Unit commandant Stephen Chelimo to Senior Assistant Inspector General of Police.
Take a quick survey and help us improve our website!
Take a survey
Nairobi Area police commander Japheth Koome, Noor Gabow, Henry Barmao, Edward Mwmburi, Daniel Kibenei, Solomon Makau, Peter Mwanzia, Joseph Kodi, Titus Muvea, Douglas Kanja, Patrick Obimo, Patrick Lumumba, Eunice Kihoko, Mwivanda, Situma of Kenya Police were promoted to AIG.
Eusabeus Laibuta, Joseph Musyoki, Washngton Ajwoga, Rashid Yakub, and Jacob Mukiri in APS were promoted to AIG.
Those in Directorate of Criminal Investigations (DCI) promoted to the rank of AIG include Gideon Kibunja, Samuel Nyabengi, Michael Barasa, Francis Njiru, Henry Ondiek, Peris Muthoni, Ambrose Munyasia, Pius Macharia, John Gachomo, Sospeter Mwinyi, David Cheruiyot and Charles Muthusi.
Those promoted to the rank of Commissioner of Police according to the commission include Owino, Omari, Kuraru, Dismas Nyakundi, James Akoru, Paul Soi, Charles Karege, Dhado Kakawa, Chrispus Mutahi, Kazungu, Ngere, Njoka, Gitahi Kanyeki, Asenath Kithuka of APS and John Kariuki and Danson Diru of DCI.
Two hours after the commission circulated the list, the IG sent his.
Insiders say there has been misunderstanding between the commissioners with some taking sides on various matters when voting was needed.
Chairman Johnston Kavuludi said the names were discussed and passed in their Tuesday meeting.
"There are minutes to show our proceedings. I don't know why some names were omitted," he said.
National Police spokesman George Kinoti said the name of Owino was left out "by mistake" and would be sent later.
On his part, Boinnet said the affected names were not discussed in the commission meeting.
"We are part of the commission and I can tell you some of the names were not discussed," said Boinnet.
The commission told a Senate committee on Tuesday they are incapacitated by lack of two commissioners who are yet to be replaced two years after a request was made. Whereas they are supposed to meet every Thursday, Kavuludi said they had met six times since January because of many issues.
The promotions have been pending for long, affecting progress in the service. This also affected command in general.
A new scheme to be launched next month has abolished the rank of Commissioner of Police and replaced it with that of Principal Superintendent of Police to avoid the current confusion over the highest rank in the defunct Kenya Police Force.
The new scheme of service that will be launched in September will have 14 police grades and will be aligned to that of the mainstream civil service.
"This means police officers will forthwith enjoy a salary and allowances commensurate to their colleagues who are serving in the civil service," says the commission.
The Director of Human Capital Management at the commission Fredrick Mugambi, says they are set for the launch and implementation of the scheme by September this year.