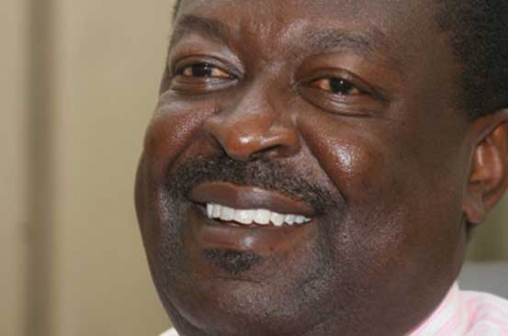 CORD has defended its leader Raila Odinga against claims by Amani leader Musalia Mudavadi that he insulted the Luhya community during his Western Kenya tour that ended on Friday.
In a brief statement released by CORD secretariat's CEO Norman Magaya yesterday, the coalition said Raila had no personal grudge or vendetta against Mudavadi or the Luhya community.
Mudavadi on Thursday issued a statement saying Raila insulted the community, a remark CORD disputed as false.
"We find the said statement by Mudavadi completely unfortunate because at no single moment has Raila insulted the Luhya community, given his strong lineage traced to the Mulembe nation," CORD said.
"Raila has only addressed himself to the idea of a unified national movement geared towards delivering the third and final liberation of our country by urging the Luhya community to support him."
Read More
CORD said Raila was only re-firming the remarkable unity demonstrated by Luhyas for generations without minding the tribal differences as is perpetrated by some leaders.
"Mudavadi, being one of the leaders seeking the presidency, should be the least to talk about Luhya consciousness to tribe. He should uphold Kenyan consciousness," said Magaya.
CORD emphasised on all inclusive politics and urged leaders to stop propagating politics of prejudice, which it says will only undermine the much hyped national homogeneity.
"Mudavadi's speech marks a major contradiction of a man who has always bandied himself around as a safe pair of hands. The Kenyan state cannot be in a safe pair of hands with a man who is seeking to build a tribal enclave for his own selfish motives," reads the Cord statement.
"Let it be known that one of the biggest problems bedeviling our nation today is the politics of tribalism and exclusion visited on us by the Jubilee leadership. The doctrine of tribalism and exclusion is a political tool crafted and wielded by Jubilee."
The coalition said unconscious political statements that triggered tribal animosity undermined the dictates of the of the 2010 Constitution, which was calculated to nip tribal politics in the bud.
"It therefore remains confounding to all observers as to what drives the motives behind Mudavadi's incessant personal attacks against Odinga," Magaya said.
Cord said Mudavadi has consistently led his supporters to believe he is in pursuit of the presidency, yet he spends all his time pouring vitriol on the Opposition leader, while sparing the Jubilee regime.
During Raila's week-long tour of Western, Mudavadi's supporters gave the ODM entourage a hard time, in some instances blocking roads and singing songs in praise of the Amani National Congress leader. Some of them asked Raila to return the favour and support Mudavadi for presidency next year because the ANC leader backed him in 2007.