Mourners eulogise a family matriarch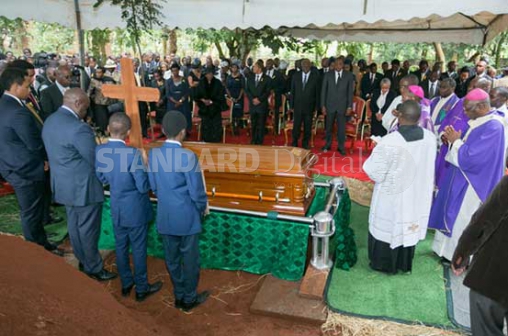 Kenyans eulogised former First Lady Mama Lucy Kibaki in a ceremony in which thousands of mourners joined members of her family in Othaya, Nyeri County.
Close family members and leaders led by President Uhuru Kenyatta who eulogised her, gave dramatic accounts of her life.
The accounts were of a firm, courageous and hands-on Mama Lucy Kibaki.
Kibaki's second born son, Jimmy, elicited laughter as he narrated his childhood escapades and his mother's interventions.
Wild laughter
Jimmy told the mourners about how his mother intercepted him on State House corridors and with an authoritative voice, told him that he would be requiring an appointment to see his father, Kibaki.
Lucy further told her son to tell his children that they will not frequently be meeting their grandfather.
"My dad had just been elected president. She came across me in State House corridors and with a strict voice told me, 'Jimmy, your kids will not be coming to State House anyhow to see your father. He is now a president and has a lot of work'," he said, send the packed tent into paroxysms of laughter.
He continue: "Mum kept on reminding me that I need to book an appointment to visit dad in State House." Jimmy said he was once engaged in an exchange with his mother and he realised she was dead serious.
"She made it straight that at no time will any of her children broker an appointment for anyone to meet our father," said Jimmy.
He recounted his days at St Mary's High School, where he said he used to be caned by one teacher who was a priest.
"The teacher use to cane me every Friday and I decided to tell mum. But instead of sympathising with me, she told me straight to the face that I was becoming a naughty boy and since she could not punish me, the teacher was free to take over. Since that time, I started wearing two pairs of pants to school to minimise the pain," said Jimmy.
He noted that her mother's strange reaction to the caning gave him courage and freedom to cane his younger brother, Anthony Githinji, whenever he became mischievous.
mother of Jubilee
"Mum was a fearless defender of her family. She was a strict disciplinarian and she always drew a double red line to anyone who went against her family," he said.
Deputy President William Ruto narrated how he was once summoned by the deceased, after he had made comments about Kibaki administration. "Nilianza kuwaza kama nimekosea mama (I wondered if I had erred her). I had made some remarks which did not go down well with the former First Lady and she summoned me.
"During a garden party at State House, she waited for me and gave me a piece of mind, but obviously, in a motherly tone," said Ruto.
The Deputy President termed Lucy as the mother of the Jubilee Coalition, saying she confronted him in State Lodge and advised him to team up with President Uhuru Kenyatta.
On his part, Kenyatta said Lucy stood with him when he was faced with court cases at the International Criminal Court. "Mama Lucy stood firmly with me, contrary to what some other people thought," said Kenyatta.