Hollywood stars, Kenyan leaders to witness Sh31 billion ivory go up in smoke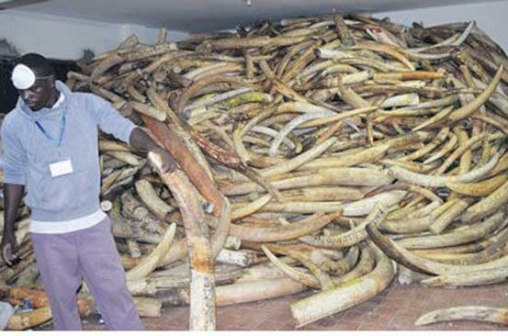 Kenya will set on fire some 106 tonnes of ivory worth an estimated Sh31 billion in the black market this Saturday, April 30. With this symbolic act, the Kenyan Government will reaffirm its stand on a complete ban on ivory trade in the presence of world leaders and opinion shapers.
Heads of State and Hollywood stars are expected to attend the three-day event aimed at raising awareness on the detrimental effect illegal ivory trade has on the jumbo population.
Leading film and media personalities such as Sir David Attenborough, Leonardo DiCaprio, Nicole Kidman, Yao Ming, Elton John, George Soros, Paul Allen, Kim Tan and Howard Buffet and media tycoon Evgeny Lebedev, are expected at the event.
It is estimated that more than 1.3 million elephants roamed Africa in 1979 before a poaching craze fuelled by war, an insatiable appetite for ivory in the Far East and poor wildlife management policies, brought down the numbers to an estimated 401,650.
Kenya has suffered a fair share of this decimation. Official data shows the jumbo population declined from 167,000 in 1973 to a mere 20,000 in 1990. Currently, the population is approximately 40,000.
Killed illegally
"The ivory, transported from Voi, Mombasa, Nanyuki and other parts of the country, will make up a significant proportion of an estimated 106 tonnes of elephant tusks to be set ablaze in protest of the continued slaughter of the country's most iconic species," Paul Gathitu, spokesman for Kenya's Wildlife Agency (KWS), has said.
Take a quick survey and help us improve our website!
Take a survey
The Forest Elephant – from Central and West Africa – and the Savanna Elephant – from East and Southern Africa – are facing dramatic population decline, mainly due to the illegal trade in ivory.
"Poaching has over the years been the most significant threat to the survival of elephant populations. For instance 100,000 elephants were killed illegally between 2010 and 2012, at an average of 33,630 each year – in excess of what is thought to be the average annual population growth rate for African elephant," Paul Newman of the London based Environmental Investigation Agency (EIA) told The Standard on Sunday.
In early 2014, China crushed 6.2 tonnes of illegal ivory — the first time this key destination country has done so.
Many other nations have destroyed ivory stocks. Kenya has previously burned stockpiles in 1989 and 2011. "Destroying ivory does not, of course, end the illegal ivory trade. But it sends a clear signal that it will no longer be tolerated," UNEP Executive Director Achim Steiner said in his 2015 World Wildlife Day address.
KWS says efforts to deal with elephant poaching have been stepped up. For example in 2013, a joint operation of various African governments and environmental agencies from five countries— Operation Wildcat – resulted in 660 arrests and seizure of 240kg of elephant ivory.
"These successes prove we know what needs to be done. We must reduce demand for illegally traded wildlife. We must expose the criminal groups through increased enforcement in source, transit and destination countries," Gathitu says.
Data from EIA shows that over the past 15 years, from 2000 to 2015, a total of 117 seizures have happened; translating to 211,527.13 kg of ivory, equivalent to ivory sourced from 31,571 elephants.
"Forensic analysis conducted on certain large-scale ivory seizures has identified Tanzania as a major source of illegal ivory and a poaching hotspot; this analysis also correlates with Tanzania's elephant census results that confirmed a catastrophic 60 per cent decline in its elephant population due to poaching in the past five years," Newman says.
Investigative bodies currently put the price of a kilo of ivory in the traditional markets, such as China, at Sh300,000.
In 1989 when the ivory ban came into effect, Kenya burnt 12 tonnes of ivory, 5 tonnes in 2009 and a further 15 tonnes in February this year.
According to KWS, poachers killed 164 elephants in Kenya in 2014, compared to 302 in 2013 and 384 in 2012.
This week, KWS Director General Kitili Mbathi received impounded ivory hauls from various parts of the country including Narok, Tsavo East and Tsavo West. More is expected to come in from Laikipia for the planned burning.
Although most of the ivory is from impounded stocks from suspected poachers, some has been sourced from elephants that have died of natural causes.
At the end of March, Environment Cabinet Secretary Professor Judy Wakhungu issued a 21-day amnesty for Kenyans to surrender any wildlife trophies illegally in their possession.