Kenyans laud James for speaking out on his real gender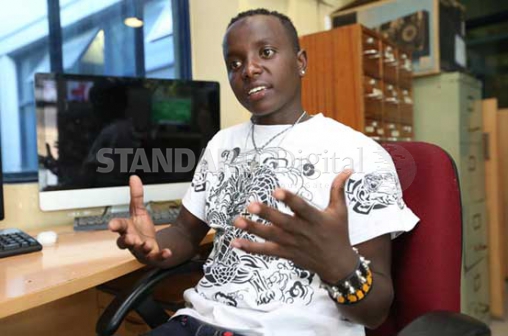 The young man who last week spoke candidly about his journey to change his gender has received overwhelming support for his courage.
Identifying himself as James Karanja (pictured), he narrated his long 18 years, living with the wrong gender identity.
"I have met about five other persons whose gender was ambiguous. They are now adults and want to be identified by their actual gender. They fear coming out because of the stigma and discrimination," James, who hopes to start an advocacy to represent persons with gender identification challenges, said in a follow up phone interview.
He is also awaiting the National Gender and Equality Commission to sign a request letter to the Kenya National Examinations Council to change his academic documents from Mary Waithera to James Karanja so that he can pursue his college education.
James, 25, was brought up as a girl by his grandmother and educated in a girls' school for 18 years because of the wrong gender assignment at birth.
When his story ran last week, it generated lively debate on the vibrant Standard Digital online platform.
"James you are so brave and I wish you nothing but the best," said Rose Nyambura.
"Oh my God! That is a strong willed individual. Can you imagine in our macho uncaring social set up what he has had to go through? I really feel for the young man," Framer wrote.
Take a quick survey and help us improve our website!
Take a survey
"Interesting article but unfortunate case for the lad. At birth, their genitalia resemble that of girls only for the male organ to develop at puberty when there is a surge of male hormone," Paul Maina said.
"It's clearly a rare medical complication and there are many others suffering in silence," Shaf Shafi contributed.
Nominated MP Isaac Mwaura said the coverage of the issue had stimulated discussions on gender identities and he would move a motion in Parliament on behalf of persons with gender disorders.