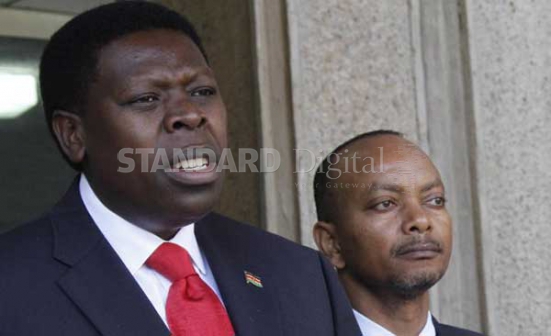 Government workers in State-owned corporations will not be sacked in the reforms that merged parastatals.
The reasons cited are legal and political, The Standard can reveal.
The Jubilee administration has put on hold the merger of several parastatals, which would have occasioned job losses after a cost-benefit analysis which showed it would have become politically costly in the run-up to an election.
The move comes as the tenure of the first crop of Jubilee appointees in the corporations comes to an end with the General Election just 18 months away.
House Majority Leader Aden Duale explained that there were legal and political intrigues to the reforms and which the Government had to carefully navigate.
Read More
"These State corporations are created by Acts of Parliament and we cannot wake up and simply merge them without a legal framework in place," said Mr Duale.
He said the report was to be brought before the Cabinet for adoption and then forwarded to Attorney-General Githu Muigai before it was tabled in Parliament with necessary legislation to support the mergers and changes.
"It is not an easy task and this is something I will not allow the Jubilee administration to implement if it means loss of jobs within a few months to the General Election. It is suicidal to sack people now."
Duale said some of the parastatals' functions had been transferred to county governments, and there was need for new laws to align these roles for takeover by governors.
But National Assembly Public Accounts Committee (PAC) Chairman Nicholas Gumbo differed: "My committee is concerned that public resources were used for a noble exercise only for its recommendations to be thrown out of the window because of partisan political interests.
"The amount of wastage by the Government is mind-boggling. Why should we be having people acting in positions for up to four years in critical State dockets such as the Capital Markets Authority, Rural Electrification Authority and the Kenya Pipeline Company, among others?" he posed.
"It makes the work of PAC difficult in trying to hold chief executive officers (CEOs) accountable if they are not in substantive appointments".
And in a new move that will keep many salivating, the Government will start advertising to fill prime positions in top State companies next week.
Intense angling and canvassing for the three-year renewable appointments in the critical multi-million-shilling dockets has started.
Among the lucrative paratatals seeking to fill vacancies of CEOs are the National Security Social Fund (NSSF), Kenya Pipeline Corporation (KPC), the Kenya Airports Authority (KAA), National Oil Corporation of Kenya, (NOCK), Brand Kenya, Kenya Medical Research Institute (Kemri) and the Capital Markets Authority.
The Geothermal Development Company, the Kenya Electricity Transmission Company (Ketraco), the Kenya Agricultural and Livestock Research Organisation (Kalro), Kenya Nuclear Electricity Board, Rural Electrification Authority and Capital Markets Authority are among State corporations which have acting CEOs.
Our investigations revealed that most of the recommendations of the Presidential Task Force on Parastatal Reforms were sacrificed and ignored at the expense of political interests while some were delayed by legal hurdles.
Yesterday, Water and Irrigation Cabinet Secretary Eugene Wamalwa announced major changes affecting water boards.
He appointed Andrew Mkhisa Wanyonyi acting MD of the National Water Conservation and Pipeline Corporation. Wilson Maili Lekomet was appointed acting director at the Regional Centre on Ground Water Resources Education.
Benjamin Muema was appointed chair of the Kenya Water Institute while Faith Waigwa and Winnie Cherono Sabila were named to the board of Water Appeals. Stephen Lukene Nkabash was named chair of Tanathi Water Services Board.