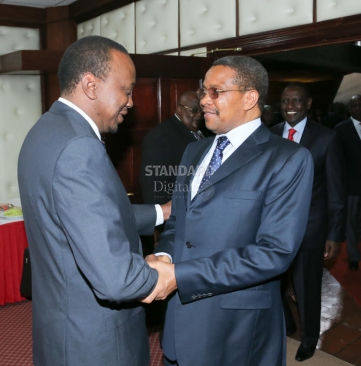 NAIROBI: Heads of state from the East African Community say the process of drafting the Constitution for East African Political Federation is to be initiated before the end of the year.
Speaking Friday after a summit in Nairobi, the member States said they discussed the admission of South Sudan and Somalia into the community.
At the same time,President Uhuru Kenyatta handed over the mantle of East African Community leadership to his Tanzanian counterpart Jakaya Kikwete at the 16th ordinary summit at the Kenyatta International Convention Centre.
Other regional heads present were Yoweri Museveni (Uganda), Paul Kagame (Rwanda), Salva Kiir (South Sudan), Pierre Nkurunziza (Burundi).
The forum comes at a time when Tanzania has been on the spot over alleged lack of commitment in the integration process, especially in wake of the Serengeti/Mara row with Kenya.
Read More
But Kikwete reiterated his country's commitment to the process, refuting claims that Tanzania might not be fully on board. "Tanzania is fully committed the EAC integration agenda and will never turn back on this position," promised Kikwete.
He called on community partner states to eliminate all barriers to integration to fast-track the Momentary Union Protocol and Political Federal of the member states.
The partner states signed the East African Momentary Union protocol in November 2013, which gives a ten-year road map for members to enter a single currency in 2024/2025.
President Kenyatta who was credited with pioneering major programmes during his tenure in office, also urged the new chairman to steer the process to greater heights.
"I am impressed with the progress so far, however, it should move even further under the leadership of Kikwete," said Kenyatta.
During this year's meeting dubbed'Deepening and Accelerating Integration Towards Political Federation', the leaders sought to address critical issues affecting regional integration and development process.
"EAC aims at widening and deepening co-operation among partner States, in among others political, economic and social fields for the mutual benefits," noted the secretary general Richard Sezibera.
Other issues included appointment of the new judges of the East African Court of Justice, designation of a new Principal Judge of the East African Court of Justice; appointment of a new deputy Secretary General from Burundi to replace Jean Claude Nsengiyumva, whose tenure ends in April, renewal of contract of Jessica Eriyo; deputy Secretary General in charge of productive and social sector.
"The impressive milestone shows that the partner States are on the right path," stated Sezibera.