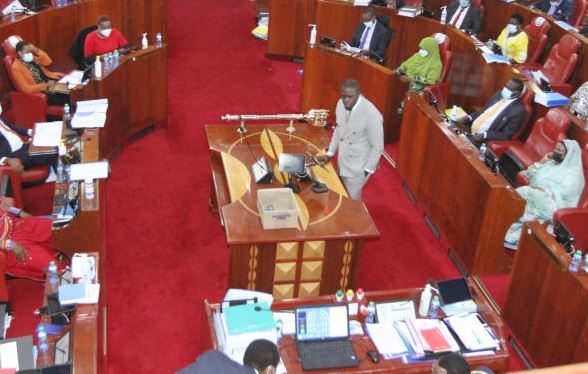 The impeachment of Nairobi Governor Mike Sonko is an indictment of the Jubilee Party and its leadership comprising President Uhuru Kenyatta and his Deputy William Ruto.
Mr Sonko has not changed one bit since he began his political career. He was a well-known commodity when he decided to run for governor ahead of the 2017 election.
It is telling that the Jubilee Party looked at Mr Sonko's credentials and decided he was fit to be governor of the most important county in the country. Therefore, his impeachment is not simply a personal matter for the governor. It also speaks volumes about the judgment of Jubilee's leadership.
In the end, the removal of Governor Sonko from office reflected broad-based consensus among the Kenyan establishment. Having outlived his political usefulness, he had to be spat out. First, came the whittling of Sonko's powers under the auspices of the Nairobi Metropolitan Services. And then when it was politically convenient, he got impeached by the county assembly and removed from office by the Senate.
Unfortunately, the removal from office of Governor Sonko will not cure the many ills for which he was simply a manifestation. The brand of populism espoused by politicians like Sonko and former Kiambu Governor Ferdinand Waititu reflects a deep-seated frustration with the conduct of our politics. For decades, the relatively well-mannered pockets of our political class have completely neglected the plight of ordinary Kenyans. These politicians like to speak about respectability and the idea of a well-ordered society, but lack any interest in the lived realities of real Kenyans living real lives throughout the country. It is this void that the Sonkos of this world have risen to fill. And there are plenty of them out there. Both in our cities and in the countryside, the Kenyan youth are ready for politicians who speak their language, and who have no qualms with meeting them where they work and live. With good reason, they have come to be disillusioned with politicians who are good at spewing hot air about "international standards" and "foreign investors," but who do not know the price of unga in Kayole, Kondele, or Kabati.
Read More
The challenges of a failing education system, lack of jobs, rising cost of living, and generalised elite insouciance have pushed young Kenyans to the edge. And to compound matters, the old safety valve of rural agriculture is no longer working as the countryside runs out of land and ever fewer young people becoming lifelong farmers. With that in mind, it becomes clear why the rise of Sonko in Nairobi politics is just the beginning. As we continue to urbanise without concomitant creation of dependable urban jobs, the gap between our youth people's aspirations and lived experience will only grow bigger. And while Sonko largely cast a lonely figure in Nairobi politics over the last several years, the one next time may be more organised. Given the demographics of Nairobi, it should be fairly easy for a well-organised populist party to have a permanent majority in city politics.
Of course, our ethnic chiefs keep hoping they will always herd us into our respective ethnic blocs to thwart truly populist politics. However, this formula will gradually lose strength. More Kenyans are beginning to understand that politics ought to be about improving their material conditions. The link between voting patterns and economic outcomes will only get stronger.
Which brings us back to our ethnic chiefs. While Sonko's tenure is attributable to Jubilee, other leading parties like ODM have also foisted questionable leaders on Kenyans. Because our party nominations have been little more than bidding wars, there are more Sonkos to come.
-The writer is professor at Georgetown University