On graft, Uhuru wants to have his cake, eat it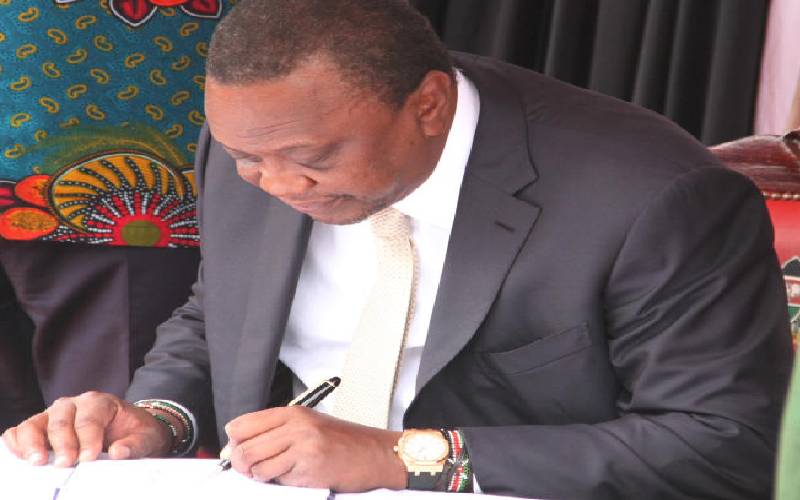 Is President Uhuru Kenyatta serious about fighting corruption? The answer is unclear. Over the last few years, Kenyatta has on numerous occasions expressed his commitment to end grant in the public sector. Yet no single high-level official is in jail. Indeed, several people the president outed in his infamous "List of Shame" have since found their way back into public service, appointed by Kenyatta himself! Are these the deeds of a man serious about fighting graft?
There is more damning evidence. For example, this week the focus was on the embattled Treasury Cabinet Secretary Henry Rotich, and his co-accused. Mr Rotich and others are charged with having violated several laws in handling of the financing of dam construction in Elgeyo Marakwet County. At face value this might be seem like a bold arrest. But it also raises questions. The Treasury is arguably the most important ministry. One might ask, for how long has Kenyatta known that Rotich and company were abetting looting of public funds?
And if Rotich and his co-accused are guilty of the charges, should we also demand that they be investigated for NYS I and II, the alleged Eurobond heist, the Health Ministry scam, the education sector scam, not to mention the standard gauge railway scam? Being the chief custodian of public finances, Rotich was either aware of these scandals, or criminally liable for not doing his job. And because the buck ultimately stops at State House, all of this reflects poorly on Kenyatta.
Ultimately, not even Rotich's arrest will move the needle. And that is because the fight against graft is half-hearted. If we are honest, Kenyatta wants to have his cake and eat it. He heads the most corrupt administration in our history. It has taken him almost seven years to wake up to the obscenity of graft. Based on his actions, he certainly does not want to end graft. He merely wants to reduce it. To this end he keeps coming up with measures designed to send signals and not to punish theft. The hope, it seems, is to warn officials that gross misconduct that might embarrass the president will not be tolerated.
I am on record noting that we should never let perfect governance be the enemy of good-enough governance. For the sake of consistency, I will admit that this approach might work even in the fight against corruption. For instance, China is not corruption free. But President Xi Jinping has been clear that gross misconduct that embarrasses the Communist Party is punishable by death. As a result, corruption in China is limited to those officials in the public sector sure of having political cover. China's "managed corruption" has enabled it to avoid some of the distortionary effects of graft that we have in our economy.
In our case, Kenyatta simply lacks the capacity to do what Xi has done. First, we are a minimally functional electoral democracy. Unlike Xi, Kenyatta is constrained by electoral concerns. In addition, he lacks the institutional mechanisms needed to orchestrate this kind of war on corruption. Our judiciary has a modicum of independence. Our investigative and prosecutorial authorities are not as good as they could be. And our ruling party, Jubilee, is a joke of an institution. In short, the China way of fighting corruption is infeasible in Kenya. It is also tyrannical and should not serve as a model.
So where does this leave us? Our only option is to fight graft in all quarters of government. It is only this kind of approach that will generate the paradigm shift needed to decentre graft from public sector.
- The writer is an Assistant Professor at Georgetown University