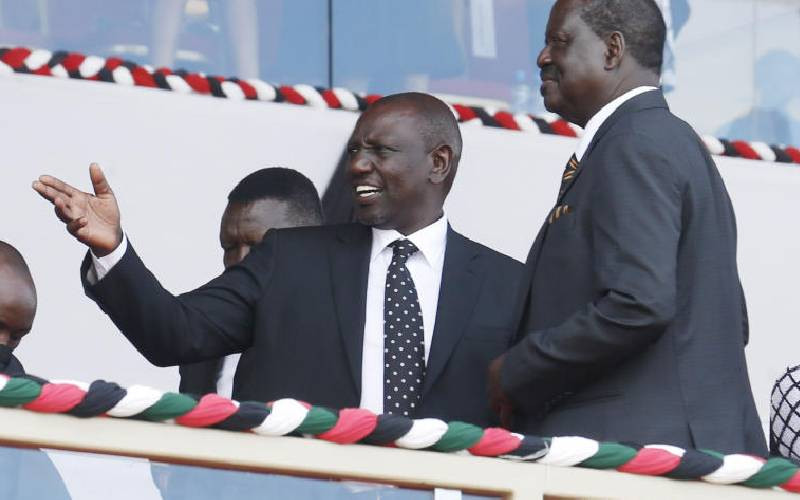 Like Commonwealth gold winner Ferdinand Omanyala, the sprint of some 16,100 candidates comes to an end today. How have the political campaigns fared and what do we need in our election survival kit right now?
For many, the childish question "Are we there yet? Enough already" resonates. It does feel like we have been in the state of a permanent election. Campaigns have dominated our news, neighbourhoods and screens daily for over a year.
While the campaigns and primaries have been thankfully relatively peaceful, five human beings too many, died this year. Two supporters died as they scrambled for politicians' banknotes in a road accident and three others were killed by opposing supporters.
Insecurity has stalked Elgeyo-Marakwet, West Pokot, Baringo and Marsabit residents. There have been 50 cases of violence and 28 cases of assault including police officers, according to the Kenya National Commission on Human Rights.
Eight counties - Nairobi, West Pokot, Kisumu, Kakamega, Isiolo, Mombasa, Bungoma and Kisii - have borne the brunt of intimidation, violence, and bribery. In 146 incidences, parties and candidates failed to shield children skipping school for handouts. Women aspirants experienced 740 online, verbal, and physical attacks across the country led by Siaya, Kisumu and Nairobi according to FIDA. Transparency International's campaign watch portal received a staggering 1,200 complaints of vote buying and voter bribery across 34 counties. The NCIC declared social media giant FaceBook an elections hotspot last week. Alongside Tik Tok, WhatsApp and Twitter, these platforms have failed to responsibly moderate hateful content and lies.
Online negative content went up 45 per cent in July according to Code for Africa. Carefully crafted speeches by political candidates have been twisted beyond recognition. That deep fake video by the Deputy President in Eldoret was not the first, all parties are culpable. While shutting down platforms is not the solution, faster removal of hate-speech and the careful monitoring of trends and advertisement boosting, is. Death, insecurity, violence, public resource misuse, vote buying, and online disinformation are all elections offences and acts of voter suppression. They are designed to crush our right to vote.
The combined efforts of government, independent offices, business lobbies and governance organisations are probably one of the reasons we have not had more incidents.
The National Police Service can be commended for training 1,100 police commanders on the lawful use of force and de-escalating supporter tensions. Two days before election day, there is no single fatality attributable to the service. We encourage the 150,000 officers being deployed not to betray this record.
There is more to celebrate. Historically, 3 out of 4 deputy presidential candidates, 23 gubernatorial candidates, 57 deputies, 340 National Assembly, 42 senatorial candidates and 1,187 MCAs on the ballot are women. Testimony to our international importance, this is a very closely observed election. A staggering number of 70 elections observation teams are already 'kwa ground' alongside thousands of national observers who will carefully watch 65.2 million ballot papers and 46,233 polling stations. They and the IEBC will have to interpret the Judiciary's last minute constitutional judgement that the manual voter's register must be used on Tuesday.
So, what is left for us as citizens? We must protect each other and the elections from further offences. Keep the following toll-free numbers close. Police 0800730999, 0779756616; KNCHR 0800720627; ODPP 0800723377, 0110939802; NGEC 070375100, 0800720187 and IPOA 1559, 0743262729.
Disinformation is real. Let's keep ourselves informed with facts, not personality-based propaganda. Let's keep our sanity by following #TusibleedNdioWalead #ElectionsBilaNoma #FumbuaUkweli.
For those empowered to vote, let's check our status and polling station stream at https://verify.iebc.or.ke. Let's also familiarise ourselves with the candidates at https://mycandidate-kenya.opencitieslab.org/.
Let's choose only those with a human rights agenda and a clean track record of leadership integrity.