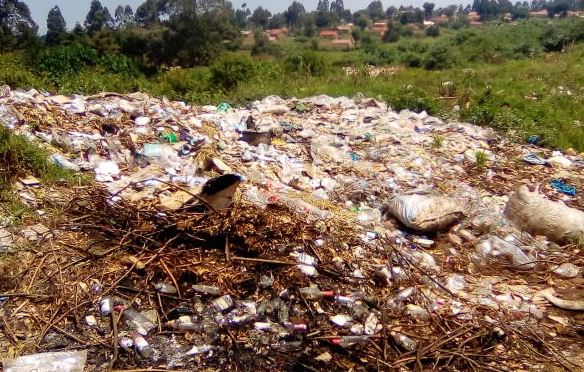 It is 6am in Kapsabet Town, Nandi County, and traders are unpacking vegetables from the lorries in the market's main entrance.
Occasionally, they take a peek at decomposing rubbish just outside the gate, with its pungent stench causing discomfort.
Traders say they have been forced to operate under unsanitary conditions as municipal tractors take long to collect rubbish, leaving their customers to contend with the irritating smell from the rotting waste.
"We have been dropping the spoiled fruits and vegetables just outside the gate. There is a tractor which sometimes makes rounds in the town picking the waste, but today they have failed to collect them," said Naum Maiyo, a fruit vendor.
Kapsabet, the county headquarters, has for the last eight years been ailing due to poor management of solid waste, decrepit infrastructure and unreliable water supply.
Read More
Maiyo said poor drainage across the streets was a serious problem that leaves them to operate in unhygienic conditions even after paying levies to the county.
Kapsabet Hotel Manager Ernest Mandu said to avert regular water shortage, they have installed water tanks to sustain operations.
"Water rationing has become the norm in the town and we have found ways to avoid a crisis when the taps dry up," he said.
Other major restaurants including Choma Zone Resort, Steve Nice, County Hotel and Keben Hotel have drilled boreholes to ensure constant supply of clean water.
The water shortage in the town and its environs is estimated to affect over 30,000 households.
At the main bus terminus, the operators and travellers cannot access sanitary facilities due to lack of public toilers.
The chairman of Kapsabet Chamber of Commerce, Samuel Seronei, says that though the town has seen remarkable growth since the 1950s, shortage of essential facilities is a major setback for business.
"The town lacks essential facilities, which discourages investors eyeing various sectors. It is worrying that despite the millions of grants the county government received from the World Bank, as traders we have not seen the town's facelift," he said.
Kapsabet Nandi Water and Sanitation Company Manager Anthony Kiboiy said there is insufficient water supply for all the town residents.
Major challenge
"The current water system can only supply 70,000 cubic meters per month, which translates to 3,000 cubic meters per day. It's connected to only 5,000 households," he said.
Kiboiy said the topography of the land has been affecting water distribution, with various estates including Eastview, Namgoi, Chepcholol Kokwet and Kamobo experiencing rationing.
Kapsabet Municipality Manager David Sum said lack of a dumpsite is a major challenge and they have been forced to deposit the waste at the Kapsabet Hospital cemetery.
"We benefited from the Kenya Urban Support Programme grants of Sh177 million that was majorly allocated to infrastructure and installation of light in the municipality," he said.
"A section of the money was set to expand the sewage system, which is also not enough for the current population."