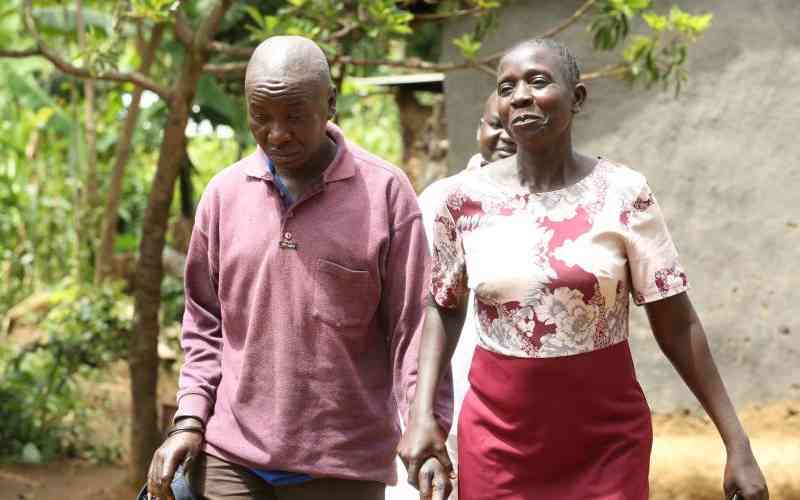 A woman has chased away her "husband of four years" with whom they have a child to give room to her first who went missing in 2006.
Agripina Mulupi, 37, remarried a Rwandese who moved in the home of her first husband after efforts to trace him turned futile.
"My husband, Boniface Muyeshi, left 17 years ago never to return when we had two boys and a girl. We lost touch after the 2007 post-election violence. I travelled to Nairobi in search of him, I even looked for him in morgues to no avail," she says.
"I kept the search alive for ten years before resigning to the thought that he was no more. I had to move on with the three children we had and life was so difficult. In 2019, circumstances forced me to remarry the Rwandese."
She says the Rwandese loved her so much that she convinced her clansmen to have him build a house on her missing husband's land.
He constructed the house just beside the missing husband's house where their love blossomed for four years until June 15, 2023, when a family friend spotted the missing husband in Meru.
Anxious, Ms Mulupi requested to speak to him and realised the voice was his. The photos she received of him were also evident that he was the father of her three children.
She begged him to return home to reunite with his family. But the return had to have consequences. "True, I loved my new husband with whom we have a three-year-old daughter but because Muyeshi is my first husband, I told him to leave as it was the honourable thing to do," says Mulupi.
"He decided to leave but not with our daughter, he nonetheless said he would keep in touch with his daughter who is now part of our family with Muyeshi."
Muyeshi aged, 40, returned on Tuesday to his Emukoyani village home in Lurambi Constituency where his three children could hardly recognise him.
He said he left home for Nairobi to look for a job in 2006 with his cousin and moved to Chuka, Meru County after the post poll clashes of 2007. Muyeshi who struggles to speak coherently, said he was traumatised after living in Nairobi and Chuka streets as a homeless man.
His family initiated a plan to bring him back home to his children and wife. Muyeshi's elder brother Wycliffe Muyeshi is waiting for his brother to 'acclimatise' with the return before bringing him up to speed with what happened while he was away.
Zachariah Kombo, an elder, said he must undergo some rituals to reintegrate him into society and do away with the spell that made him disappear.
"If we don't, some of his children may as well just get lost," said Kombo adding that it would involve slaughtering cockerels and goats.
Related Topics