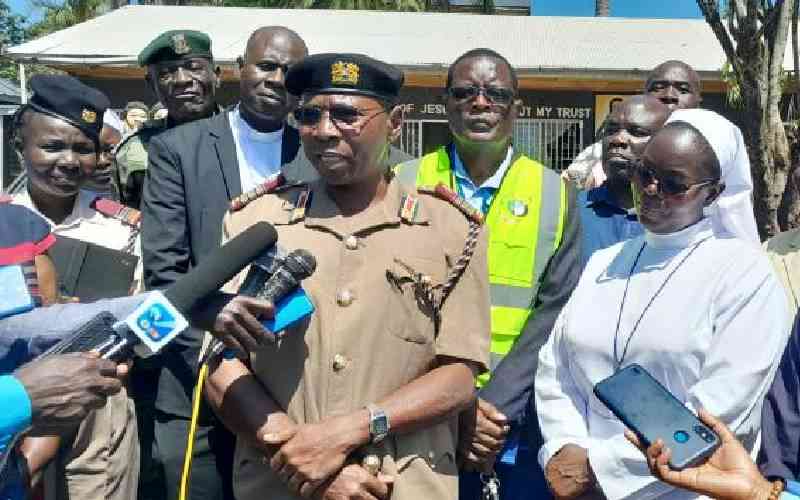 The government has restored normalcy at the Sacred Heart Mukumu Girls High School after two months of uncertainty following a disease outbreak that killed three students and a teacher.
Education Cabinet Secretaries Ezekiel Machogu and his Health counterpart Susan Nakhumicha closed down the school after at least 500 students fell ill.
The students presented fever, stomach aches, diarrhoea, vomiting, dizziness and chest pains, among other symptoms.
The CSs later formed a multi-agency committee, led by the Western Regional Commissioner, Mr Irungu Macharia, which was tasked with restoring normalcy at the institution.
Most of the students have already reported back to school, and learning has resumed.
"We have restored the supply of clean water, installed a new board of management, repaired the sewer system and purchased new grains and oversaw an overhaul of the sewerage system," said Mr Macharia during a media briefing at the school.
The committee was formed to oversee the implementation of recommendations by the two ministries before the reopening of the school.
Macharia said they have completed renovations at the school and other works, exuding confidence the safety of the learners is now guaranteed.
"I want to dispel rumours in mainstream and social media that we have another outbreak at the school. Don't cause panic to our parents and students. The learners are safe. We have a few students who reported back while they were still sick, and they have been treated," said Macharia.
William Olaka, the Kakamega County director of public health, said there is no new outbreak. He said 88 students had been taken ill at different times since the school was reopened.
"We are human beings. When someone comes to school and feels something strange, being aware of what happened in the past, the person will obviously panic. Some of the students reported back suffering from urinary tract infections, malaria, tonsillitis, gastritis, and pneumonia. They were treated and are back to class," said Mr Olaka.
He added: "Nine students are still in hospital. Four of them were admitted on Tuesday. They are out of danger. The condition of one of the students deteriorated and she was taken to Moi Teaching and Referral Hospital (MTRH). She is responding well to treatment."
Olaka said all their recommendations had been adhered to by the school management, save for the sewer system, which he said needs an overhaul. "The outbreak was as a result of contamination of water with faeces."
"The sewerage system was meant to take care of 1,000 students but with the 100 per cent transition policy by the government, we are now talking of more than 2,000 students, in addition to staff. This has put pressure on all utilities at the school," said Olaka.
Sister Jane Mmbone, the new principal, said that out of the 2,018 learners, 1,860 have reported back.
"We are aware there are some parents who transferred their children to other schools," said Ms Mmbone.
She added: "I am happy to report that whatever was advised by officials from the public health, it has been addressed, and learning has resumed smoothly."
Mmbone appealed to parents whose children are still at home to bring them back to school. "Together with the new board of management, we are up to the task. We will ensure what happened does not happen again. The students are safe."
Mr Ibrahim Oluoch, from Lake Victoria Water Works Development Agency (LVWWDA), said the school is now getting clean piped water from Kakamega County Water and Sanitation Company (Kacwasco).
"The water from the stream, a borehole and a shallow well which the school depended on has since been disconnected from the main reservoir tank," he said.
Mr Oluoch, the Planning and Strategy acting manager at LVWWDA, said they have further sunk a Sh6 million borehole with a capacity of supplying 16 cubic meters of water per hour to supplement that from Kacwasco.
"The problem we have now is the storage capacity. To solve the problem, we are designing a new steel elevated water tank with a bigger capacity to ensure the school has enough water at all times. We have also erected a water purifier and I can confirm after tests that the water quality is good for human consumption," said Mr Oluoch.
Fr Vincent Mukokho is the new board of management chairman. Former Nanyuki High principal Dr Oliver Minish, Rosemary Wanaswa, Dr Polycarp Ishenyi and Kenneth Muhanji are members.
Other members are Fred Anguba, Jason Mulama, Bibiana Aluka, Dosiana Ahindukha, Gabriel Fwaya, Genevieve Imbayi and Masai Khakasa.
[Additional reporting by Imenza Mary]
Related Topics