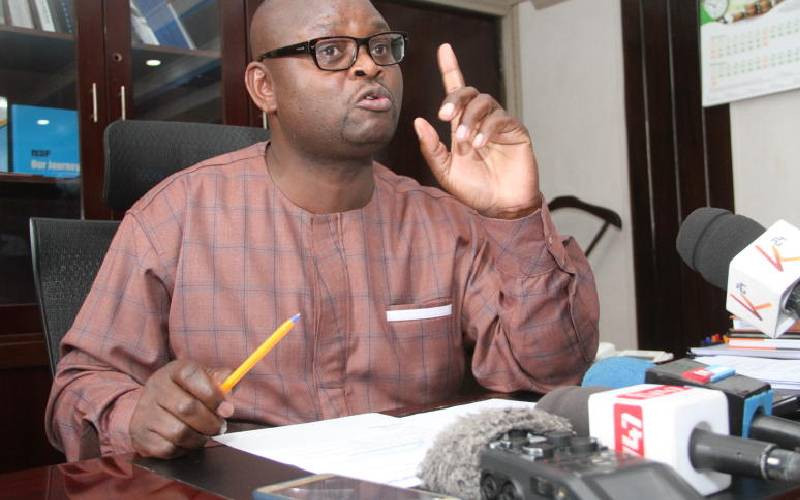 The Independent and Electoral Boundaries Commission (IEBC) has distanced itself from allegations that one of its workers bungled the Malava constituency parliamentary elections.
IEBC has denied that its worker, who was allegedly a concubine of a contestant in the race held in August, altered votes in her lover's favour.
The commission's lawyer Peter Samba gave documentary evidence that laid bare all their employees during the polls held on August 9, which showed the lady in question was in fact, not an employee of the commission.
The petitioner in the case, Kenya National Union of Nurses secretary general Seth Panyako, alleged in his court papers that Moses Malulu, who was declared victor in the closely fought poll, leveraged the relationship to win.
Mr Samba also dismissed claims that IEBC used vehicles belonging to Malulu's allies working in the Malava Constituency Development Fund office to transport election materials.
"That cannot be the truth as the IEBC hired vehicles from Panamarc Transport Company Limited based in Bungoma. The company transported all our electoral materials in Malava and Matungu constituencies," he said yesterday before Justice Rachel Ngetich.
"The KIEMS (Kenya Integrated Election Management System) kits failure also did not affect Panyako alone by making his supporters give up on voting as he alleges. We suppose if any gave up on voting then they were supporters of candidates across the board and not those of the petitioner (Panyako) alone."
Malulu denied sponsoring violence or bribing voters as Panyako alleged.
He said on the voting day, he turned up to cast his ballot and greeted a few voters who acknowledged his presence and that could not amount to bribery.
"I later on left for my home and waited for the tallying and announcement of results without influencing anyone to engage in violence," he told Lady Justice Ngetich.
Panyako wants the High Court to call for a fresh parliamentary election in Malava, saying the election held on August 9 was marred with violence, voter bribery, and rigging.
Rogue staff
He says in court papers that the rigging was facilitated by, among others, a rogue IEBC staff.
"Among the IEBC officials was Malulu's concubine, a specialist in Information Communication Technology (ICT). It is significant to point out that after she finished her assignment of stealing votes for Malulu, she did not participate in other meaningful assignments, particularly the subsequent Kakamega governor poll," he says in his affidavit.
He sued the IEBC, its Malava returning officer Juma Joseph Oduor, and Malulu, saying the three-term MP took to giving voters money on the queue at several wards, including Chemuche, Manda Shivanga, and Kabras East.
He attached an affidavit including that of his agent Joseph Werabunuku who he claimed raised the bribery allegations with IEBC officials but was ignored.
"Injendi came and handed a bunch of notes to his mobiliser, one Mr Elisha Chemanga, and instructed him to give it to voters on the queue. This happened in the full glare of everyone. As per the instructions, Chemanga distributed out money to voters on condition that they vote for Malulu," he says.
Panyako, who was declared second in the parliamentary race with 20,133 votes against Malulu's 22,891, says his agents were also intimidated by IEBC officials, including the presiding officer.
He blames IEBC for not declaring that it had contracted Malulu's supporters and officials of his NG-CDF to do transportation business with it. The case will be mentioned on November 8 to give direction on when the ballot boxes will be opened for verification of the ballots.
Related Topics