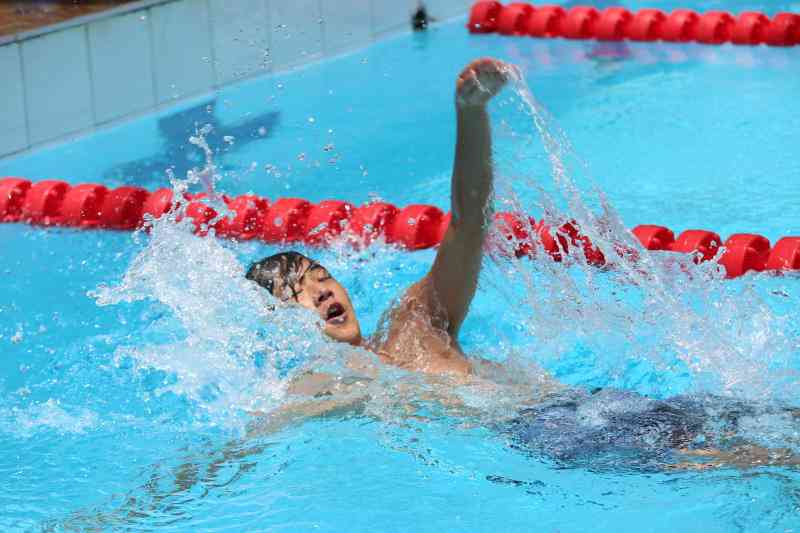 Swimming in Eldoret, the bedrock of athletics is gaining popularity with the sport attracting junior teams and hosting numerous galas.
School teams have emerged as swimming facilities and training opportunities, which gives young talents opportunities to compete as they seek to leave a mark in the sport.
Last weekend, SOS, Etham, Gulab and Nova Pioneer schools dominated the latest swimming gala, topping the charts in different categories in the competition held at Eldoret's Rupaz Fun and Fitness Centre.
SOS, Etham and Gulab teams got 343, 329 and 265 points to emerge as the best three teams in the gala, the second competition since February.
The swimming gala attracted swimmers in age categories from eight to 15 years.
With 189 points, Etham won the best girls' team crown, with SOS topping in the boys' category 250 points.
Gulab and Nova Pioneer took the second and third places respectively in the girls' category as Etham and Gulab teams emerged runner-up and second runner-up with 133 and 104 points respectively.
Organisers say the increasing number of swimming competitions and budding swimmers from eight to 16 years meant production of talent was gaining momentum.
Rupaz Fun and Fitness Centre's Linette Ochieng attributed the huge number of young swimmers to the new Competency Based Curriculum which incorporates swimming and other sports in teaching and learning.
"Our Olympic size swimming pool has been training several schools from Eldoret and neighbouring towns for the past one year and we have decided to host them for a swimming gala. After successfully staging other galas recently, we now look into hosting annual events so that young swimming talents compete and take home trophies and cash prizes," Ochieng said.
Etham swimming team was crowned champions in the 4x25m freestyle Under-9 category, with Gulab emerging second-best team in the same category. In the 4x25m freestyle relay 14 and over age groups, SOS recorded 01.41.89 for victory, with Jakim team returning 01.56.72 to finish second.
"We assembled 20 school teams and the best sides went home with trophies. We attracted private schools and we still encourage public schools to start training young swimmers," said Ochieng.
"We have a future in swimming in the North Rift region, which is famous for athletics. From the galas, we have seen the potential from this region," Ochieng said.
Last month, Mitchell Atieno, 19, representing Torpedo Swimming Club, became the top individual swimmer with 34 points in the women's category at the Uasin Gishu County Aquatic Association Development Age Group Level One.
Jeremy Kogo, 12, lifted the boys' trophy with 33 points.
Last October, Eldoret's Torpedo swimming team emerged the overall winners at the Uasin Gishu County Aquatic Association Development Age Group Championships at the Rupaz Fun and Fitness Centre.
Torpedo swimmers also garnered the highest points to emerge overall winners in both the boys and girls categories in the championships.
Close to 150 swimmers took part in the UGCAA swimming gala.
Mitchelle Atieno, 19 and Vahkeinab Leboy, 11, both from Torpedo, topped the women's category with 61 points each as their teammate Abigael Bochere, 12, got 59 points to settle for the third position.
Related Topics