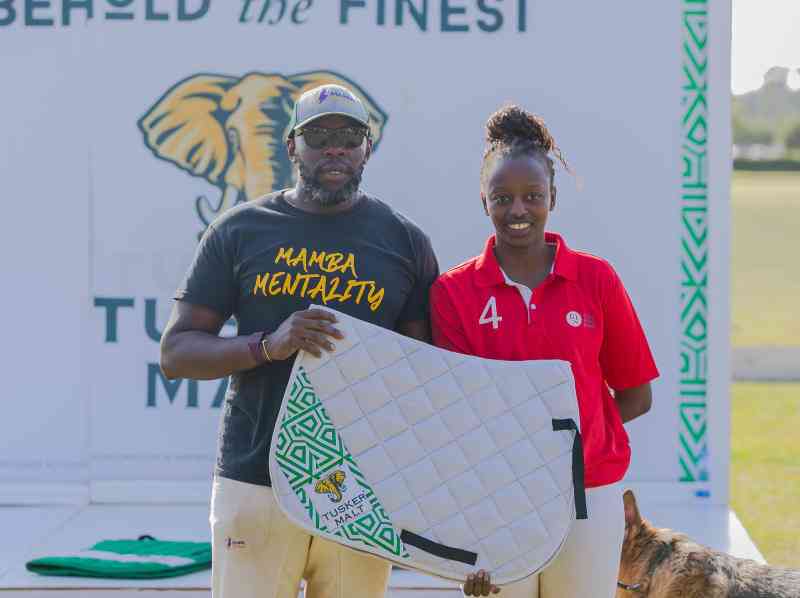 Top pony Honey is fit to prove that it was not a fluke to be declared the Most Valuable Pony last weekend this afternoon at Maria Bencivenga Cup Championship at Nairobi Polo Club this afternoon.
Honey, one of the most fancied Hiromi Nzomo horses will be be out to prove her win last weekend could be repeated today and tomorrow in this tournament.
"We are ready to repeat the feat from last weekend and this time as we are more ready for more challenges like yesterday," Hiromi told Standard Sports.
Hiromi teams up with her father Raphael, Jonathan Stichbury and Izzy Stichbury in the Live Eye team whose first match pits them against Radio Africa at 4pm.
Raphael who is the Nairobi Polo Club chairman said it was the right time to be appreciating outstanding ponies just the same way players are appreciated.
"We cannot win matches without these horses. Therefore we'll try to recognise the best horses as a way to motivate them and their owners," he told reporters last weekend.
The Radio Africa team of Kimoi Moi, Jamie Excel, Phylippa Gulden and Moses Wainaga must up their game if they are to overcome the Nzomos who are on top form.
Gulden who was voted the Most Valuable Player in Davis Cup has been bolstered by the return of international and experienced Kimoi who missed last weekend's tournament.
The first match pits BM Security against 24:7 at 2pm before Tusker Malt take on Primarosa at 3pm.
Fredd Kambo will feature in two tournaments this afternoon, first with Primarosa against Tusker Malt before he goes back to the Junior Championship hosting two teams.
Bobby Kamani who was in the winning BM Security team that wrestled Davis Cup will be featuring in the Junior Championship.
In the Junior Championship, Kambo will be in the BM Security team of Kelvin Jumba, Josephine Gauld and Michelle Morgan.
They'll play Team 24:7 in the round robin series.[Ben Ahenda]
Related Topics