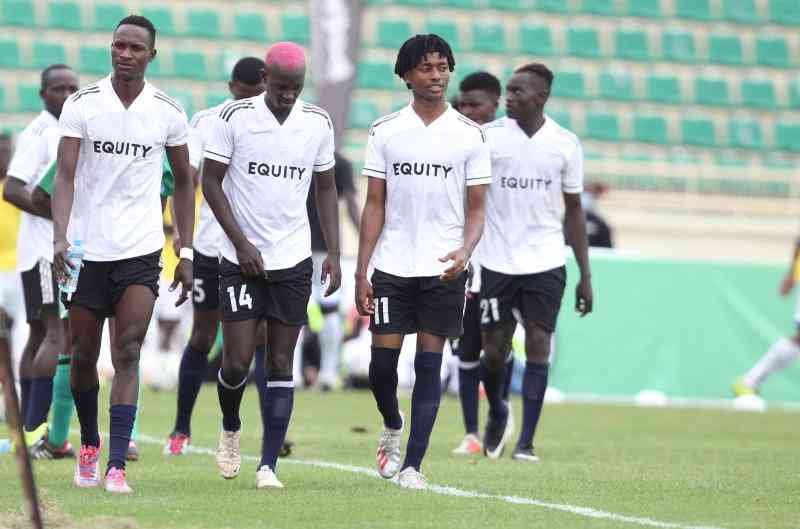 Godana Guyo netted a hat trick as Equity Bank walloped Gulf African Bank (GAB) 7-2 in a football match at the 36th edition of the Kenya Institute of Bankers (KIB) Interbank Sports that kicked off in Nairobi on Wednesday.
Abubakar Abshir, Patrick Mwanzia, Stephen Mumbi and Lewin Githinji each added a goal a piece for the winners.GAB scorers were Hamza Ahmed and Clayson Luvanda.
Co-op Bank also demolish Bank of Africa (BOA) 4-0 in a one sided encounter with Bethwel Komen scoring a brace as Daniel Kosgei and Joseph Naman added a goal each.
It was also the same case with NCBA Bank who thrashed Stanbic 4-0 in one sided duel.
Arthur Karanja led Faulu Microfinance Bank to beat old guards Post Bank 2-0 as Faulu started the games on a positive note.
Standard Chartered Bank (SCB) laboured to beat Investment and Morgages (I&M) Bank 3-2 .
Kevin Kyallo (brace) and Geoffrey Owalla raked for SCB the deserved victory as Thomas Ogade and Swalleh Muhammed each found the back of the net for I&M Bank.
The battle between Guaranty Trust Bank (GTB) and Credit Bank Limited (CBL) was a tough affair that ended in a 1-1 draw.
Brian Okoth scored for GTB while Gerald Mwangu replied for CBL.
The games are returning for the first time since 2019, they had been hampered by the Covid-19 outbreak.
The finals are slated for October 29 in Nairobi where champions will be crowned with exciting prizes.
Apart from football, other disciplines being contested are athletics, netball, handball, golf, squash, snooker, draughts, volleyball among others.
According to the games football line manager Mike Oyugah, the games will be tough and exciting going by the calibre of teams and players registered.
"With the games returning for the first time since 2019, expect a lot of fun and level of competitiveness from the participants. It will be interesting to see at least a few talents from different disciplines as we bond and network," said Oyugah. [Ochieng Oyugi]
Related Topics