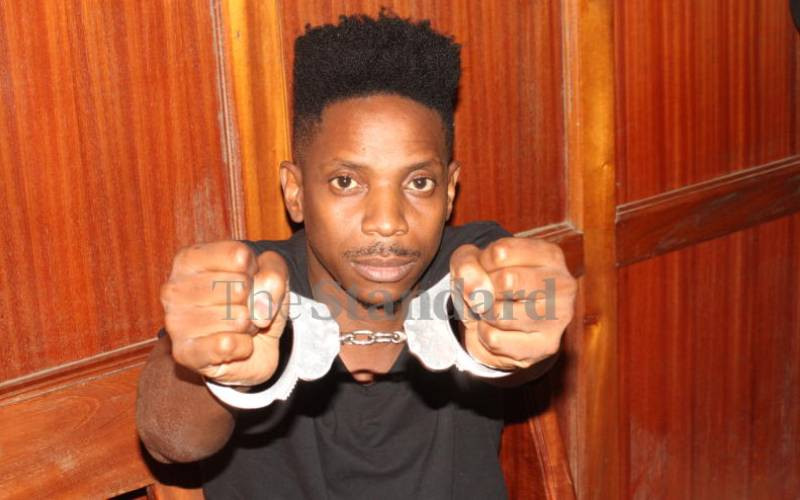 Earlier this week, the popular comedian was arrested after staging a demonstration in the CBD.
"Your honour, the accused is a national hero fighting for the rights of people without food. The Constitution, too, allows holding of demonstrations and picketing by Kenyans," his lawyer Danstan Omari argued before Omondi was released on Sh5,000 cash bail.
The comedian spent the night at the Central Police Station before his arraignment.
Just two weeks before then, the funnyman staged yet another protest, where he pushed a handcart full of resumes, which he was "allegedely taking to State House".
His stunt, which was widely covered, saw the comedian struggle with the heavy load, before he was arrested by along Uhuru Highway, Nairobi.
This was his third arrest, as not long before then, he had been taken into custody while distributing maize flour to people at City Stadium, Nairobi.
Speaking about the incident, Omondi took to Instagram, sharing a photo of himself, drenched in sweat, pushing the cart with boxes boldly labelled "State House Express CVs".
"Hata nipoa hatukufika juu Ruto Hayuko...Nimeskia anarudi Friday...Tutampelekea tu...Mark my words tutafika na tuta deliver hizi Mzigo," Omondi captioned the post, promising to one day deliver the CV's to the official residence of the President.
In his apparent pursuit for social justice, the comedian has been using his social media accounts to take his fans through his experiences, and pushing the agenda for a better Kenya.
Although fans are confused as to whether to take him seriously in this new journey, he has received widespread support from his fans.
"It is about the people, it's is about breaking the vicious cycle that I've personally experienced for 40 years- I just turned 40," Omondi told the BBC in an interview about his activism.
"Government after government brings to us the same issues and the same problems. And I thought, since I have a platform that is very influential-I'm the most followed Kenyan; that I would use my voice to raise these issues," Omondi said.
He added that there are six million Kenyans who are facing hunger and starvation, and pondered over whether the new government will change this narrative.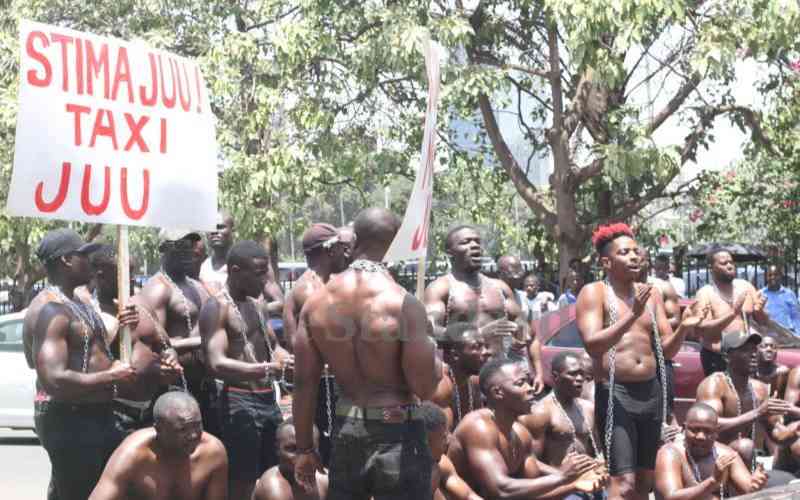 Omondi has an impressive following of over four million on Instagram, and 2.3 million on Facebook.
He has grown through the ranks as a well-known comedian from his days in the early 2000s where he was a fan favourite on Churchill Live comedy show.
"He left Churchill to do his own show dubbed Hawayuni that aired in KTN, but it was short lived. He also did 'Somewhere in Africa' and 'Untamed'," a biography of the comedian reads in part.
The report says that Omondi has over the past few years shifted his focus to YouTube and social media, where he airs his comical skits, shows and adventures.
In 2020, the comedian launched a show called Wife Material, which showed women battling it out for his affection- and it quickly turned controversial.
The funnyman went back and forth with then Kenya Film and Classification Board CEO Ezekiel Mutua, who ultimately stopped the show from running.
Omondi was arrested over the show's content, which Mutua termed as not morally right.
In 2021, the comedian apologized to KFCB for the content on Wife Material.
Since then, it has been a shift for Omondi, who has not stopped being funny, but has begun to talk about much more serious things on his platforms.
When his fiancé, Lynn suffered a miscarriage late last year, the comedian spoke out about what women go through, and the support that they need."I posted that video very intentionally and cautiously," he said in an interview, explaining why he had publicized the loss they suffered on social media.
"Sometimes in life, people are supposed to be given perspective. Wasikuwe wanaskia tu. Because there are times when we don't appreciate each other, mostly our mothers and women.
He added: never joke about a woman or a mother losing their child.
The comedian then began 2023 on a seemingly re-energized note, speaking about social issues and setting up the demonstrations we have seen so far.
In February, he tagged along a group of men and the group took to the CBD, carrying a banner labelled "Unga Juu! Mafuta Juu".
The group called out the rising cost of essential goods.
Soon after, he posted a symbolic image, one of hands breaking free from a chain.
"There is an old system that binds the youth of Nation in poverty. There is a pattern of oppression that enslaves generation after generation of Kenyans," Omondi wrote that month.
"This is the vicious cycle that we intend to break. This is the Pattern that we must and we will break! Kenyans have continually been resilient in the face of adversity and economic oppression government after government, leader after leader but anything that has a start must have an end."
Related Topics