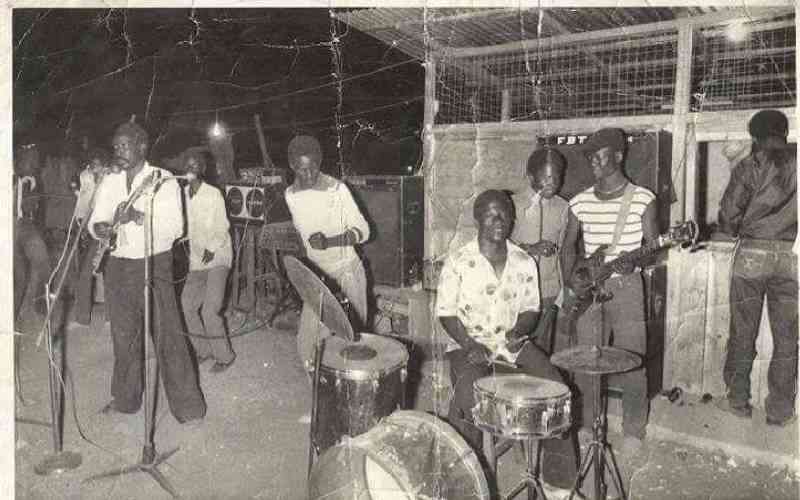 The death of former Education Cabinet Secretary George Magoha was seen as curtain call not only for an academic giant, but also a no-nonsense doctor and administrator. The professor of surgery boasted of excellence in various capacities. Beyond the obvious top brains, Magoha never came across as a man with musical prowess.
His stone-face look in meetings could not make you believe he had a carefree side. But Omore Magoha was a different man to different people. He was a good bass guitarist with legendary Ochieng' Kabaselle's Lunna Kidi band. Straight from the melting pot of Eastlands through Starehe Boys Centre, Magoha strummed the strings for three years with Kabaselle.
Kabaselle was an iconic figure in the Benga music scene, having left the army and been jailed for sedition. It was under his tutelage that Magoha excelled. But Magoha is not the only music export to hail from Gem.
The undisputed king of Benga – due to his rich catalogue and innovativeness - was arguably Richard Owino, also known as Dr Collela Mazee, the founder of Victoria B Kings. This deft guitarist from Gem was a brain box who got division one and scored 6 points from Ngere High School but opted for music.
Collela was a music wizard who ruled Benga like a colossus. His peers bestowed the prefix 'doctor' as recognition for his unparalleled dedication to his craft. From the sleepy village of Aluor, Collela Mazee's guitar awakened the passions of young men to become musicians.
A few years later, few villages away in Ujimbe, the bawdy superstar Okatch Biggy announced his arrival with Super Heka Heka. The burly frontman was a rare talent from the cradle of Benga music, whose baritone signature made fans travel from far and wide to be serenaded by his well-arranged music.
Before Okatch Biggy rose to stardom, there was a raft of stars from Gem. See, Dr Collela Mazee went to Aluor Primary School in Gem, Bidii Primary School in Nakuru and Ngere Secondary School, before plunging into music in 1970.
He formally joined Victoria Jazz Band under the proprietorship of runaway music producer Phares Oluoch Kanindo, who later rose to become a Member of Parliament. The band boasted of talented Benga musicians Ochieng Nelly, Paul Orwa 'Ja Solo' and Opiyo Emma. It was this star-studded line up that Collela joined.
But Ochieng' Nelly left for Chandarana studios in Kericho with a host of guitarists. Orwa Jasolo joined mercurial Benga composer George Ramogi in his CK Dumbe Dumbe band. Collela and Opiyo Emma remained as the leading lights of the depleted Victoria Jazz Band. He needed to act fast.
So, Collela went back to Aluor, Gem and recruited his brother Apiyo Capella, his cousin Owino Oomo, vocalist Awino Lawi, talented guitarist Onyango Odol, Lucas Muga, Odongo Agwata, and Scheme Kalamidi.
He roped in talent from neighbouring areas. These included Oriro Jakago, Odham Wembe, John Ayona, rhythm guitarist Otondo Kajonyo, bassist Otoi Jadudi, Ochuo Standby, Omoya Ukwala, and Rabby Oyondi.
This marked the beginning of Victoria B Kings band that released great music consistently over 30 years. Collela became a towering figure who popularised the genre beyond greater East Africa.
Brothers Collela Mazee and Apiyo Capella were inseparable in music, life, and death. The brotherly affection saw them perform together until they breathed their last in 1997. Both requested their families to bury them next to each other.
In the sleepy village of Uriri stands a magnificent mausoleum built a few years ago to honour Collela and Apiyo. The project was led by Odero Aghan and George Ngodhe.
Back in Migori, Awino Lawi and Collela Mazee were the central pillars. The host of musicians from Gem coalesced around them. Soon, other bands from Gem sprang up. They included Odongo Manila's Gem Lucky Jazz and Kuadha twins Oketch Wilson and Oketch John. As well, Dickson Sijenyi of Mutumbu Jazz, Onyango Lord and Onyango Odol, both renowned rhythmist guitarists were other gems from Gem. Onono Paddy also hailed from Gem.
Wasonga Wangwe from Nyamninia in Gem played with Awino Lawi's Victoria C for a long period and so did Odongo Agwata, a Victoria B legend, who also hails from Gem. The Kadori sextet of Bana Kadori band are also sons of Ujimbe in Gem.
Other Benga greats from the region are George Onyuka and Ochieng Amigo of Les Victoria Kings C. Bands like Oremo Jazz Band was headed by John Owije and Odongo Manila. Other bands from Gem were Central Siaya Jazz Band of John Ombasa. Many other musicians come from the region, including those that do other genres, like ohangla and nyatiti.
Although pioneer Benga musicians Aketch Oyosi, John Ogara, Arong'a Jamakosa, Odira Jombo, and Dick Ngoe hailed from larger Luo Nyanza, Gem evolved to become the epicentre and revolutionised the genre.
From Collela's Victoria B Kings came mellow-voiced Awino Lawi with an off-shoot, Victoria C Kings. Then Ochieng Nelly, the returnee from Kericho, renamed Victoria Jazz Band as Victoria A Kings. The three bands began the biggest benga competition in Migori. These influenced many youngsters to come up with new outfits breaking off from Victoria A, B, and C. Among them was schoolboy Omore Mamor and his peers Prince Jully who started Jolly Boys band.
Elsewhere in Shirati, North Tanzania, the polemic political musician, D.O Owino Misiani, was making big waves. Misiani was the biggest Benga artiste across Africa, with his songs playing all over the continent.
In this battle royale of Nyanza region for the Benga crown, Migori comes home a distant second. This was the home of the trailblazers, the Migori Super Stars, which also had a galaxy of stars including Kasongo Polo, Musa Olwete, Ochieng Amollo and others from the region.
A cocktail of factors, like the community's unique approach to the indifference others had over Benga music, which in its formative days was associated with delinquency, or even considered a curse by others, played a role, and it also seems likely that the community had an inborn affinity to music as exemplified by situations where bands enjoyed financial sponsorship from the community.
Other notable musicians of the era, who weren't necessarily from Gem were Ochieng Kabaselle of Asembo, Paul Orwa aka Jasolo and George Ramogi from South Nyanza, Daniel Owino Misiani from Shirati in Tanzania, Gabriel Omollo from Ugenya in Siaya, Osito Kalle from Mabinju in Asembo, Musa Juma from Usonga in Alego, and George Kembo from Seme in Kisumu County.
In the Rift Valley, Micah Maritim and Kipchamba Arap Tabutuk took the genre and domesticated it, giving it a local touch. And so had Charles Musyoki Kikumbi and his Brother Ndugu Kyali Diambo of Kimangu Boys Band from Ukambani.
Even the Kisiis couldn't resist the allure of dancing to the beat, and the community's senior musicians Christopher Monyoncho of Nyamwari Band and James Onyancha of Mosocho Fire, among others, adopted the beat. So did Central Kenya's Musaimo Wa Njeri, Joseph Kamaru and others.
The Benga fire didn't stop at the country's frontier. Benga found its way to the Zimbabwean independence agitation where it became the theme song and although musicians from Venezuela and Cuba didn't attempt to sing or record Benga, they loved the beat and the genre has a wild following in the two countries, and other Latin African states.
In Cuba, the genre goes by the moniker Kanindo, a name borrowed from a Nairobi-based producer and promoter, Phares Oluoch Kanindo who was a central figure in the development of the genre. He later served as MP for Homa Bay.
The beat may not be the country's leading export abroad, as rhumba is to DRC, despite her vast resources, or as reggae is to Jamaica, but the beat traveled the country's hinterland in the last six decades and found a new home in other cultures as well.
The music is not so popular with urban sophisticates, but it has miraculously survived several dethronement attempts from the apex, by several other genres. Gem remains the citadel of Benga.
Related Topics