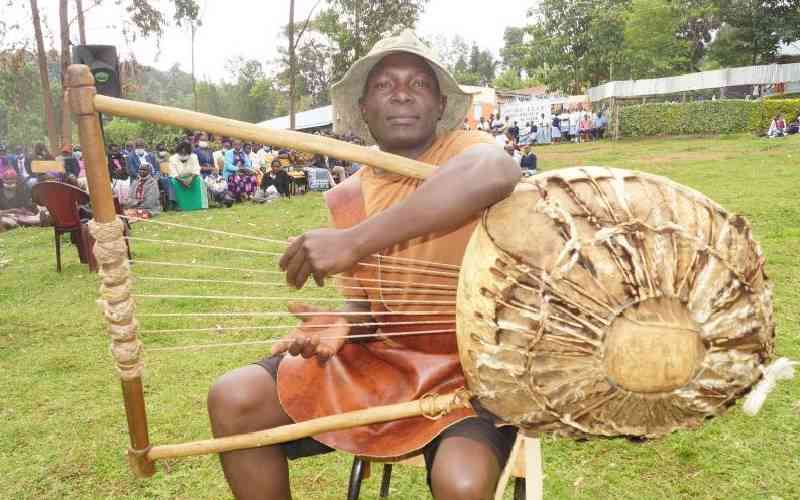 Obokano, the eight-stringed traditional guitar of Abagusii people has had its distinct space as the only male musical instrument.
The lyre has distinguished itself as a man-musical tool over the centuries not because of any physical features on it, but just because only men would be allowed to play it.
No woman musician has ever tried her fingers on obokano, according to Hezron Onchweri, a historian of the Abagusii Community from Nyabiosi Village in Kisii County.
And many folk songs sang using the obokano in the olden days portrayed men as stronger characters in society than women.
A good example is a popular song about Kemunto O'Machani, a woman character portrayed as lazy and foolish.
The woman loses out on getting married and she is castigated as being a burden and disgrace to her parents.
Nyambane, a historian and director of Culture in Kisii says women were victims of social ridicule.
"We have few or no compositions of folk songs that castigate men for being lazy or immoral, but there are galleries of them about women," he says.
Elder Bosire argues women who would try their fingers on the lyre would be treated as rebellious.
"Traditionally, men had special seats, which no one else, but them would sit. If a woman sits there, that is a violation of norms and such a woman would be punished," he says.
The punishment, according to Onchweri would involve her being sent to her parent's home where she would be expected to be given a goat, which she would pay as a fine.
"Her parents would give her the goat as a fine and it would be slaughtered when the woman returns to her matrimonial home and a feast known as egesonsoro (reconciliation) would be conducted," Onchweri adds.
The historian says the instrument is a cultural symbol of the community's home governments, communal ruler-ship and entertainment where men have been central over the times.
"A man, and not just any other man, but a known inheritor of the instrument, would play it. Women were only allowed to dance and sing along with the soloist," Onchweri says.
The elder says he has never owned the lyre because his great-grandfathers never had any.
"No one would just own Obokano. You had to come from a special lineage that is talented in music and it would run through generations," Bosire says.
Popular Gusii Afrofusion lyrist, Jared Mombinya, who uses the instrument as the chore tool of his Ekegusii music genre says his traditional guitar was inherited from his ancestors.
The guitar was passed from one generation to another by inheritance from parents to their children and the old man is the one who decided.
who from among his kin would inherit it for continuity of the talent.
The instrument was made by first carving a bowl (egetuba) from the trunk of a traditional softwood called omotembe.
Animal skin (riyo) would then be used to cover the carved-out bowl to create a surface where strings would be struck to make a space that would make the resonator.
The wooden part is fully covered by the animal skin but again the skin has to be beautifully stitched to make the instrument admirable.
A bridge (risati) would be placed on the animal skin to lift the strings that are tied onto a piece of wood tended between the edges of two parallel wooden arms that are thrust into either side of the resonating bowl to make a trapezium-like shape.
The wooden tier where strings would be tied was made in such a manner that it could be flexibly adjusted when tuning the lyre.
The part of the dry skin would also be dried in the sun to tune it so that it produces a high pitch.
Eight strings were tied onto the wooden stick before they are converted into the resonating bowl.
The musical strings were made from muscle ligaments obtained from the under berry and hind legs of bulls, according to Onchweri.
And not anyone could make it either.
"The traditional guitar was only made by certain people. It was not anyone's preserve. Just like the blacksmiths of the old, makers of Obokano too were skilled and belonged to a special family called Amaiga," Bosire says.
However, things are changing, with the modern generation not keen on the same values.
For example, the instrument can be made by anybody unlike in the past when select people would do it.
There is much change in the place of the instrument in cultural entertainment with the modern guitar taking over alongside other modern musical instruments.
"Unlike those days, nowadays obokano can be played by anyone including women! But this far, the mentality that it is a male-only musical instrument still reigns supreme with modern women artistes keeping off it," Nyambane says.
Related Topics