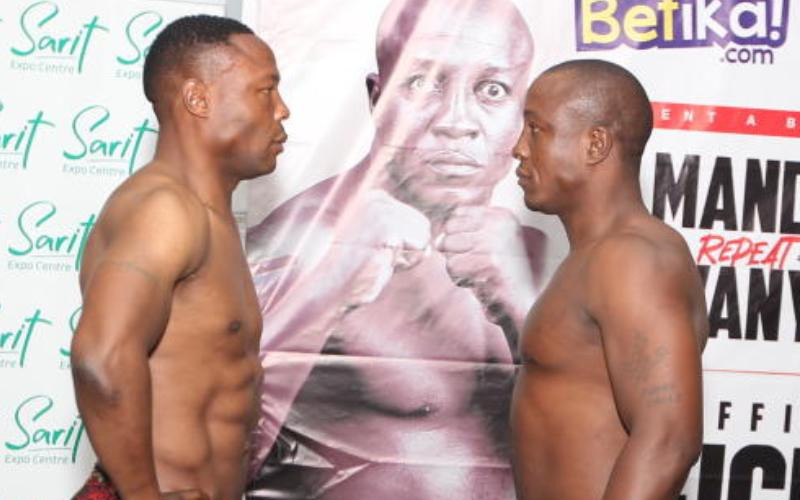 The rematch pitting Tanzanian boxer Karim Mandonga alias 'Mtu Kazi' against Kenya's Daniel Wanyonyi lived up to its billing on Saturday, July 22 night.
The Light heavyweight duel staged at the iconic Sarit Expo Centre in Nairobi and promoted by Maurice Odera of Ultra Fight Series Promotion was a thrill.Fans and spectators thronged the giant boxing cathedral to have a piece of the thriller, with each blow leaving them on the edge of their seats.Chants of 'dusla' and 'kinguki' rent the air as the determined pugilists unleashed their trademark killer blows on each.Despite fighting away from home, Mandonga still had a sizable number of die-hard fans who shouted themselves hoarse, encouraging him to bay for Wanyonyi's blood.Round one of the ten-round duel had a slow start as both rivals seemed nervous.It was Wanyonyi who opened the offensive with a right jab that landed on Mandonga's cheek.The attack inspired Wanyonyi who fired several clean jabs, which Mandonga reacted to with slightly threatening moves that could have destabilised the Kenyan had they gotten to their intended targets.Mandonga had a field day in round two, he capitalised on Wanyonyi's laxity to put his guard up.He almost sent Wanyonyi to the canvas twice which could probably have ended the fight much earlier than expected in the boisterous night.Mandonga was now riding on cloud nine in round four, unleashing some magical footwork in his corner as he danced to the blaring music that rented the air while waiting for Wanyonyi to respond to the round call.Despite the sensation, no one carried the round as both pugilists had a balance of power.Mandonga resumes the next round with a sensational dance in his corner again, one of the ring ladies catwalks by announcing the seventh round on a Betika emblazoned placard.Mandonga saw 'bad things' in this round, Wanyonyi's hammering dusla blows got him 'drunk', and he was saved by the bell.Again, Wanyonyi turned Mandonga into a punching bag in the eighth, he pounded the Tanzanian like yam. The game had seemed over until again, the sound of the bell rang. Mandonga is that proverbial cat with nine lives.Nothing much happened in the ninth, both boxers seemed to be saving their breath for the epic last round that might determine the winner, but again it was so clear like day and night that Wanyonyi was on the lead.Boom! Man down in round ten, Mandonga kisses the canvas again. It seems over but Mandonga refuses to give in, resorting to clutching and holding to remain relevant.The three judges unanimously award Wanyonyi the victory.Judge George Athmani gives Wanyonyi 100-80, Judge Wycliffe Marende 100-80, and lastly Judge Leonard Wanga 100-89.
"I'm ready for a rematch any time this is possible, today I didn't want a knockout, I was just entertaining my fans, next I'll clear him with a knockout," stated Wanyonyi.
"Wanyonyi has won on points, but I defeated him on knockout so I still reign supreme," the loud-talking Mandonga bragged.
Related Topics