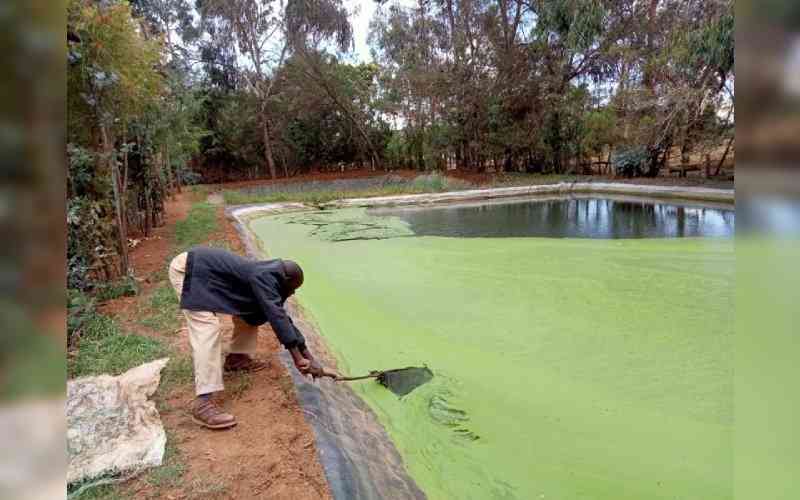 At any given time, a minimum of 2.8 million litres of water are stored in various facilities in Misheck Muthomi's five-acre farm at Ngusishi, Timau in Meru County.
Perennial lengthy dry spells have made farming a difficult task in the dry regions of Buuri, forcing Muthomi to devise creative ways of managing the critical resource.
Drawing inspiration from the knowledge that even a dry area can be transformed into an agriculturally productive area ( such as Egypt), Muthomi set out to become water-sufficient.
Now Muthomi is living true to the meaning of his name; someone who is educated.
"I had to get an education about water use and management, which I got from government institutions," he says as he takes The Smart Harvest team on a tour of his farm.
As other farmers are complaining due to the lack of rain for agricultural production, Muthomi is one happy farmer, after he came up with a successful plan to get good amounts of water, by simply harvesting rainwater.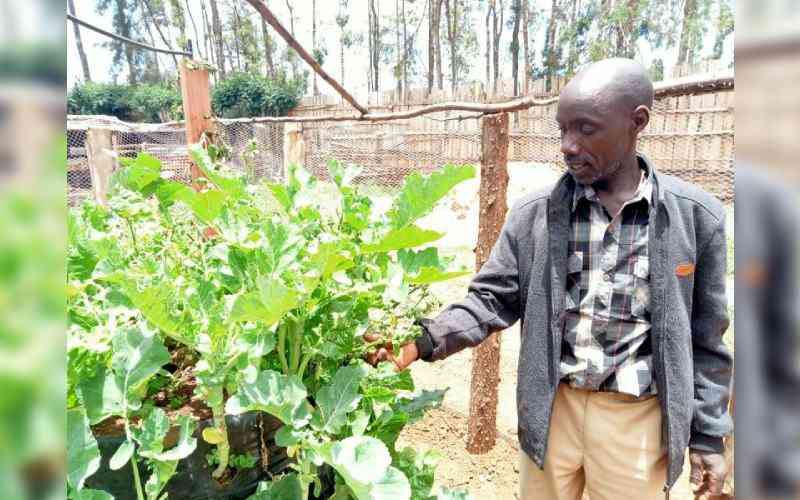 High-value crops
Muthomi, 50, grows high-value crops for domestic and export markets on his land, which is divided into quarter-acre blocks. The farm is a hive of activity throughout the season. So how did a farmer living in a dry region transform the land into a productive farm?
In addition to sinking two mini-dams on the farm, he also harvests rainwater whenever it rains and stores it in raised tanks.
"The floor of the dams is made of stone to prevent seepage," says the father of three.
His water pumping system costs Sh250, 000 uses fuel worth Sh500 per day, and pumps water to all corners of the farm where he grows snow peas, sugar snap, and French beans.
"I have contracts to grow various export crops. For example, I harvest 2, 000 kilos of garden peas with a kilo selling at a minimum of Sh60," he says.
Muthomi also harvests a minimum of 1, 500 kilos of snow peas whose price ranges from Sh70 and Sh200 a kilo, depending on the season.
"I harvest the crops throughout the year because I have a constant supply of water. As you know, the rainfall patterns have in recent years been erratic and unreliable. To be on the safe side and avoid crop failure, rainwater harvesting is the way to go," he says.
He is in the process of sinking a borehole and an underground tank to store rainwater harvest.
The current volume of water in storage can last him three months, hence the reason he is sinking a borehole and creating underground tanks.
"The top of the underground tank will be corrugated. I cannot afford to waste any space because it is only with enough water that the farm can remain profitable for my export crops," Muthomi says.
He also grows Lucerne, Napier, sorghum, and maize for his dairy farm, tucked in a corner near the family house.
"For me, it is all about water harvesting and management, because you cannot succeed as a farmer if you cannot manage the scarce resource. I also practice organic farming," he says, pointing to underground silage stores and manure storage pits.
Fish ponds
He says his four fish ponds which earn him Sh300, 000 annually, are another source of nutrient-rich water for drip irrigation.
"Each pond yields 1, 000 kilos of fish annually and he sells a piece at Sh275.
"The main purpose of the four ponds is to tap water for agriculture, the fish is just a value addition!" he says.
The fish ponds have more value-added products like algae.
Muthomi sells a 20-litre jerrican of algae to fish farmers at Sh1, 000 and half of that at Sh500.
"The algae is a source of food for the fish. I do not have to spend a lot of money on commercial feeds. The algae also help prevent a lot of light from seeping into the pond because the fish do not like light especially at night when they are resting."
The ponds are also a source of duckweed, which is a food source for the fish. Because of his innovativeness, many farmers make study tours to the farm.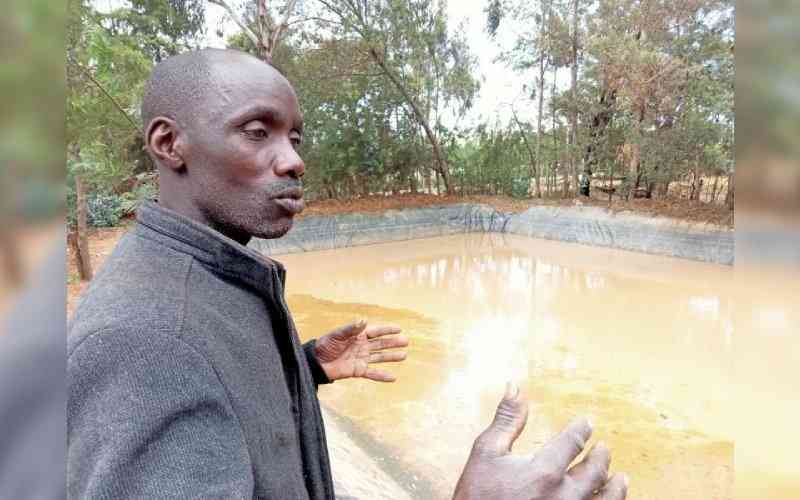 According to Meru County Agricultural Officer Paul Kinoti, rainwater harvesting is a practice of collecting and storing rainwater that runs off from either a rooftop, roads or open grounds. This water runoff can then be either stored or recharged into the groundwater.
Kinoti says the practice reduces soil erosion and flood hazards by collecting rainwater and reducing the flow of stormwater to prevent flooding.
Harvesting could be done either at the farm or a building. At the farm, good agricultural practices ensure optimal use of the little available raindrops.
The use of structures like terraces, cover cropping, and minimum soil disturbance will in a big way ensure the retention of rainwater, explains Kinoti.
Most buildings that utilise rainwater harvesting have a built-in catchment area on top of the roof, which has the capacity of collecting large volumes of water in case of rainstorms. It entails installing gutters that will collect and channel the collected water to a chamber or containers.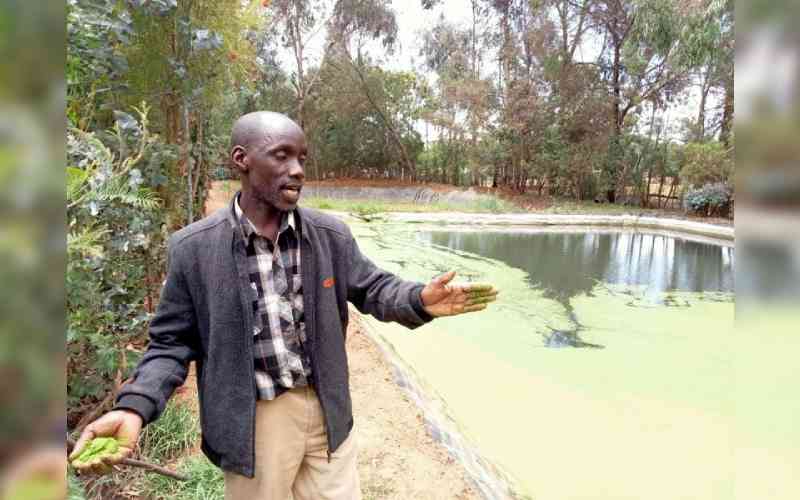 Retention ditches
According to Kinoti, there are two ways of harvesting rainwater- surface runoff and rooftop rainwater harvesting. The most commonly used surface runoff harvesting is road runoff harvesting.
This is a good agricultural practice for farms next to the road. By doing this, free running water on the road is reduced thereby reducing the destruction of roads, paths, and passage ways.
"For the best strategy, I advise farmers to consult agricultural extension officers. In situ rainwater harvesting is highly encouraged. Never allow excess water to get out of your farm. Instead, allow water from outside your farm to get to your farm. Structures, like earth dams, ponds, retention ditches, and dug open wells are good at the household level. Harvesting can be done manually, using hands or pangas, and mechanically using rippers, tillers, or other machines," said Kinoti.
"Rooftops are good water sheds for rainwater harvesting. Rooftop collection systems are common, taking advantage of drainage and gutter systems. Metal roofs are perfect for rainwater collection. They are easy to keep clean and maintain a high level of rainwater quality. Provide gutters in all the farm and urban structures and have common points for water collection from gutters," he added.
Related Topics