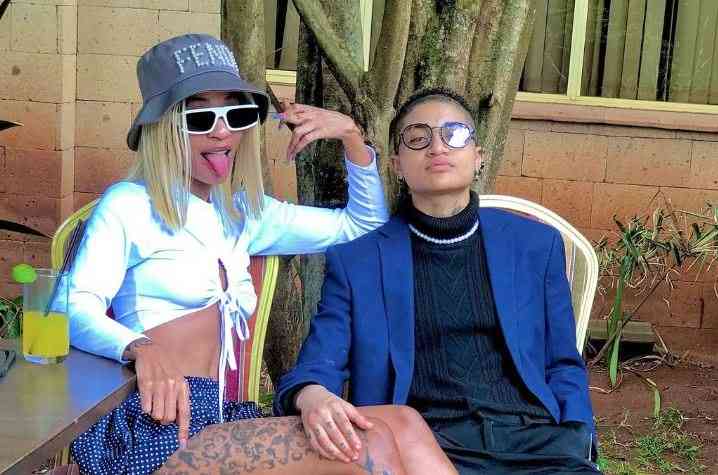 Rapper Noti Flow's ex-partner, King Alami's family, has appealed to the public to help raise funds for her medical treatment.
According to the family, King Alami, currently admitted at the Kenyatta National Hospital, sustained serious injuries after a major fall that led to her arm being amputated.
Because of this, the 19-year-old social media influencer is said to need extensive medical care that the family cannot provide.
"Hello - the family of Arman Bux is requesting your help in raising funds to pay medical bills. Arman is 19 years old and is the daughter of Shakay and Sakina Bux. She recently had a major fall which left her with serious injuries requiring several surgeries. The doctors have had to amputate one arm and are working on the rest of her injuries at Kenyatta National Hospital," read the Gofund me account dedicated to raising money for her treatment.
The family explained that Alami's recovery journey will be tasking but hopes she will get through it as she is still young and has her whole future ahead of her.
"Arman was an athlete in school and was on her journey of exploration as a young adult when this misfortune occurred. She has her whole life ahead of her and it will take a lot of work both mentally and physically to overcome all the challenges she will face after the surgeries. Your support will be greatly appreciated. Thank you," read the post.
News of Alami's fall was announced by Notiflow a few weeks ago, saying that she was more than devastated.
"My heart is broken, and I'm devastated, but I'm staying positive and prayerful," she wrote.
She explained that her fall might have not been accidental and that the matter would be treated as a criminal case.
"I understand y'all are concerned and would like to know but my hands are tied. This is a criminal matter and I don't want to interfere with police investigations. I hope karma catches up with them," she added.
Wishing Alami quick recovery in a separate post, Noti assured her of her love and care at all times.
"We are going to pray for you, my baby. We've been praying for you day and night. You're strong my G and you're still the coolest stud I fell in love with. I love you more every day. Nothing's changed and I'm with you through it all. I'm here for you forever, my love. Quick recovery, my baby you are loved and cherished," she wrote.
Related Topics