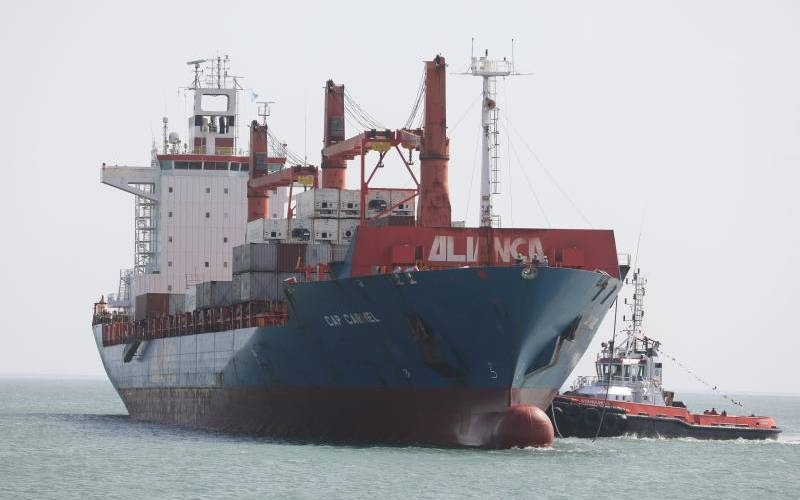 Since former President Uhuru Kenyatta commissioned the Lamu Port on May 20, 2021, the focus has turned to marketing the facility especially to hinterland nations of of Ethiopia and South Sudan.
The marketing campaign is being carried out by Kenya Ports Authority (KPA), Lapsset Corridor Development Authority and other government agencies to woo business.
In the meantime, KPA has continued to acquire key equipment to enhance operations of the new port that is set to serve as an alternative to the port of Mombasa.
Recently, KPA acquired three mobile harbours and is set to receive a set of new equipment in the next two months.
The Port of Lamu has three berths operational with a total annual capacity of 1.2 million Twenty Foot Equivalent Units (teus) and 13.5 million Deadweight Tonnage (DWTs). The three berths and yards were constructed at a cost of Sh41 billion.
The port has continued attracting business and has so far received 21 vessels although this is considered low.
"We have continued to equip the port with modern equipment to ensure it effectively supports the Port of Mombasa," said KPA managing director Captain William Ruto.
"We have plans underway to procure additional equipment to ensure efficient delivery of services." said Upon completion, the port is expected to have a total of 23 berths with a depth of between 17.5 metres to 18 metres.
Analysts in the transport and logistics sector say Lamu Port will attract substantial business once road and rail infrastructure is built to link Kenya with Ethiopia and South Sudan.
In 2021, Kenya National Highways Authority (KeNHA) launched the construction of the highway to connect Lamu port with Ethiopia but the project has been slowed down by insecurity in the region.
On March 2, 2012, former President Mwai Kibaki, South Sudan President Salva Kiir and the then Ethiopian Prime Meles Zenawi attended the inauguration ceremony for the Lapsset corridor project.
Kibaki and Zenawi expressed confidence that the mega project that includes Lamu Port would unlock trade and investment opportunities for Kenya, Ethiopia and South Sudan once completed.
Apart from the port, the Lapsett project will include a highway, oil pipeline, a refinery, rail, airport and resort cities. All went quiet for Ethiopia and South Sudan regarding the development of the Lapsset project until last week when visiting Ethiopian Transport minister Alemu Some assured that his country was still committed to the grand plan.
With a population of 130 million people, Ethiopia appears to be keen to diversity its trade routes since it already uses the Port of Djibouti. Improved relations with Eritrea also provides an opportunity for Ethiopia to use Asmara port.
Dr Some said there was need for KPA to hasten the completion of supportive infrastructure to ensure Lamu Port is fully operational. "A joint corridor management committee of a team from Ethiopia and Kenya will be formed to identify challenges the implementation of Lapsset encountered to find common solutions and speed up its completion," said Some. The minister visited Lamu Port last week to check on the progress.
Ruto observed that Ethiopia was a major partner in the Lapsset project and reiterated KPA's commitment to equip Lamu Port with modern cargo handling equipment.
Kenya, Ethiopia and South Sudan have now agreed to look for funds to build a Standard Gauge Railway (SGR) to link the hinterland with Lamu Port.
South Sudan is the second biggest user of Mombasa Port among transit countries, posting 1.1 million metric tonnes last year. Uganda comes second.
KPA has also focused on the Naivasha Inland Container Depot (ICD) or dry port to attract business from transit countries following its link with SGR and the rehabilitated old Meter Gauge Railway (MGR) to Malaba border.
According to Ruto, the facility has helped reduce the freight duration as cargo is railed by SGR from Mombasa to Naivasha, a 560-kilometre journey, where trucks can pick or cargo owners can use the Meter Gauge Railway (MGR) to Malaba to reduce costs.
KPA also operates the Nairobi ICD at Embakasi which is also linked to SGR. "Using SGR freight service from the Port of Mombasa to Nairobi and Naivasha ICDs and then to the old MGR all the way to Malaba is a sure way of saving time and costs," said Ruto.
"Due to the linkage with the SGR freight service, the port has become a cheaper alternative for shipment of goods to the hinterland."
After undergoing a major rehabilitation, Kisumu Port is now regarded as an important hub for the East African Community, trade serving Uganda, DRC, Rwanda, Tanzania and Burundi.
Its cargo grew from 18,552 tonnes in 2019 to 58,890 tonmes last year.
Related Topics