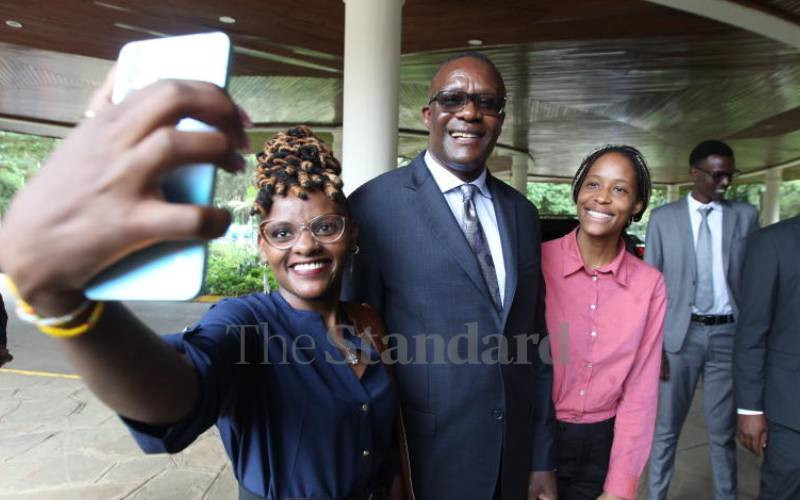 Kenyans may have a digital identity by March next year and locally-made low-cost smartphones in the next two months.
This is according to Eliud Owalo, Cabinet Secretary for Information, Communications and the Digital Economy.
''We are already on the benchmarking exercise; we have talked to Estonia, Pakistan, Romania, Lithuania and India to see if there is anything they have done well and what we can learn and customise to our own peculiar situation. And by March next year, we envisage that each and every Kenyan will have a digital identity,'' said Owalo yesterday.
He said the government will not be reinventing the Huduma Namba but will just modify some features. The Huduma Namba was a digital identity plan by the previous Jubilee regime but did not materialise even after Kenyans registered.
Owalo was speaking when he opened the ICT Week organised by the Communication Authority of Kenya (CAK). The theme of the workshop is Digital Inclusion: Enhancing Access and Usage of ICTs for All. The CS said the government is enhancing capacity of cyber security systems in the face of digitization, which comes with cyber threat.
''We are rolling out the National Public Key Infrastructure to enhance trust by issuing digital signatures and certificates among other risk mitigation measures.''
Owalo said they expect to digitise 80 per cent of government services within the next five years.
''E-citizen is now a full-fledged facility and since we took over September, we had only 350 services online but by this morning, we have managed to bring on board 4,200 services. And as you are aware we have made pronouncements that by June 30 this year, we plan to have digitised 5,000 services online,'' said Owlao.
According to the CS, they have marked out 7,800 services that need digitisation.
On deployment of 100,000 kilometres of fibre optic cable, Owalo he said the ministry has received Sh5 billion from the Universal Service Fund under CAK and also some funding from the World Bank.
He said the government is also in the process of increasing free WiFi, with a target of 25,000 hotspots and ICT hubs in 1,450 wards.
"As we speak, we have a target of rolling out a minimum of 5,000 kilometres fibre in the first phase by June 30. We intend to have the private sector support 42 per cent of the project as the government shoulders the remainder."
On manufacture of locally made low-cost smartphones, he said the country is able to make a unit at a cost of between 4,000 to Sh5,000.
Related Topics