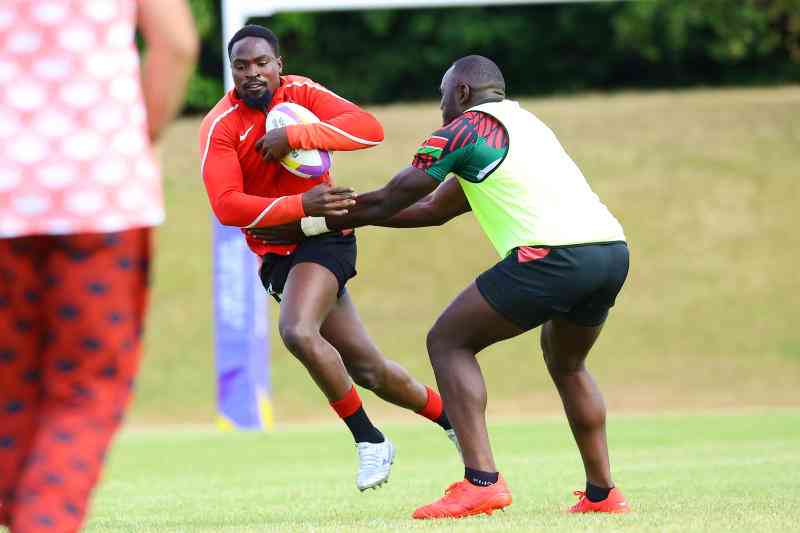 Shujaa captain Nelson Oyoo is determined to sacrifice all his energy and secure Kenya a medal as they kick off their 2022 Commonwealth Games Rugby Sevens campaign with a match against neighbours and archrivals Uganda today in Birmingham.
More than 5,000 athletes are primed for action in the English city of Birmingham from today at a Commonwealth Games lacking several track and field stars but still boasting of elite performers.
Competitors from 72 nations and territories -- many of which are former British colonies -- will be vying for medals in 19 sports over a packed 11 days.
Kenya is represented by 127 athletes in athletics, boxing, squash, hockey, badminton, 3x3 basketball, cycling, swimming, table tennis, triathlon, rugby, lawn bowls and para-cycling.Shujaa who are in group D alongside Jamaica, Australia and Uganda will kick off their pool matches against rivals Cranes from 12:50pm East African Time at the Coventry Stadium.
Speaking yesterday during their regular daily training sessions, Oyoo said they are confident of doing better at the games after working out their past challenges and incorporating new system of play.
"We are okay so far after and all I can say is our systems are working well and the boys are spirited and looking forward to the opening match."The pressure has always been within us and getting our systems right is going to release a lot of pressure. We have gone back to our old style of playing where we are using our speed and physicality," Oyoo said.
Kenya is yet to win a medal in the Commonwealth Games with their best place finish being seventh which was registered in successive editions back in 2010 and 2014.Oyoo who wrote his name in Kenya Rugby folklore back in 2016 by scoring the match winning try that sealed Shujaa's first and only victory at the Singapore Sevens said their main objective is to finish in the medal bracket.
"We are going in for the medal. We want to win our two opening games against Uganda and Jamaica since they are going to determine if we are going to be in the medal bracket and if we are going to make it to the quarterfinal."We promise Kenya a medal. That is what we are going for and they should come to support us both here and back home."
Since rugby sevens was included in the Commonwealth Games back in 1998, Kenya has participated in every edition as they look to join New Zealand, South Africa, Fiji, Australia, and England who are the only nations to win a medal.
Shujaa will be eyeing revenge against Uganda Cranes who dethroned them as the African Seven champions.The Damian McGrath-coached side will then face Jamaica at 8:58pm before they wind up their pool matches tomorrow with a clash against Australia at 12:50pm.
"We are in better shape than we were before thanks to coach Geoffrey Kimani, players have worked hard on their skills and they now understand the game better and we feel we are in a good place for the start of the competition.
"The players have set a target of getting to the knockout stages and from there you need to win one game and you have a chance of winning a medal but the first target is to get through Friday," coach McGrath said.
Group A has England, Samoa and Sri Lanka and Group B consists of South Africa, Scotland, Tonga and Malaysia.Group C features Tokyo Olympic gold medalists Fiji, Canada, Wales and Zambia.
Related Topics