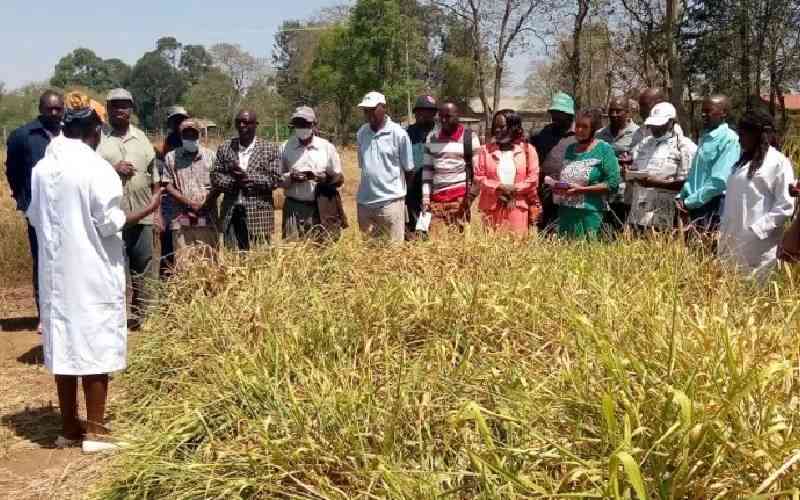 The High Court in Nakuru has ordered a city lawyer to pay Wanyororo farmers Sh86,696,042 million.
Justice Heston Nyaga today issued the orders against lawyer Ezekial Simiyu in a suit emanating from a settlement of a claim filed by Wanyororo farmers against Attorney General in 1993.
The farmers won and were awarded Sh97,096,042.15, which was paid on December 1, 2014, and August 15, 2015.
While delivering his ruling, the judge observed that a ruling delivered on December 3, 2020, had ordered a conditional suspension of execution.
The court noted that the lawyer was to deposit the decretal amount into the joint interest-earning account in the names of both advocates within 45 days.
Simiyu moved to court in January 2021, seeking an extension of the time to comply with the earlier orders of the court, and was granted 60 days.
"It is plain to tell that the applicant did not comply with the said orders, this is what prompted the respondent to move to court with the Notice to Show Cause why execution should not be issued, the notice that has prompted the present application,"
The farmers alleged that the Sh97 million they won against the government was deposited into a bank but they never received it.
Following a successful suit, the farmers were awarded Sh84,196,042.15 with interest resulting in Sh86, 696,042, by Justice Rachel Ngetich.
On September 7, 2022, the farmers, through their lawyer, made an application in court indicating that the lawyer should show cause why he should not be committed to civil jail.
The High Court Deputy Registrar via a letter, ordered the lawyer to appear in court in person or represented by his advocate by 9am on October 18, 2022.
On October 18, Echesa &Bwire Advocate's firm wrote to the registrar requesting typed proceedings, a certified copy of the judgment, and a certified decree, among others, to file an appeal.
Simiyu filed a Notice of Motion on May 5 this year, seeking orders issued on September 7, 2022, to be set aside.
The lawyer said that the proceeding was illegal and improper and all consequential execution proceedings, therefore terming it as invalid.
He stated that the provision of order 21 rule 8 of the civil procedure rules had not been complied with to have a proper decree extracted.
George Mutahi, through a reply affidavit on behalf of the farmers, alleged that the application was a delay tactic by the lawyer.
"I have looked at the court record, and I must state that the applicant appears to be determined to delay the day of reckoning," the court ruled.
Related Topics